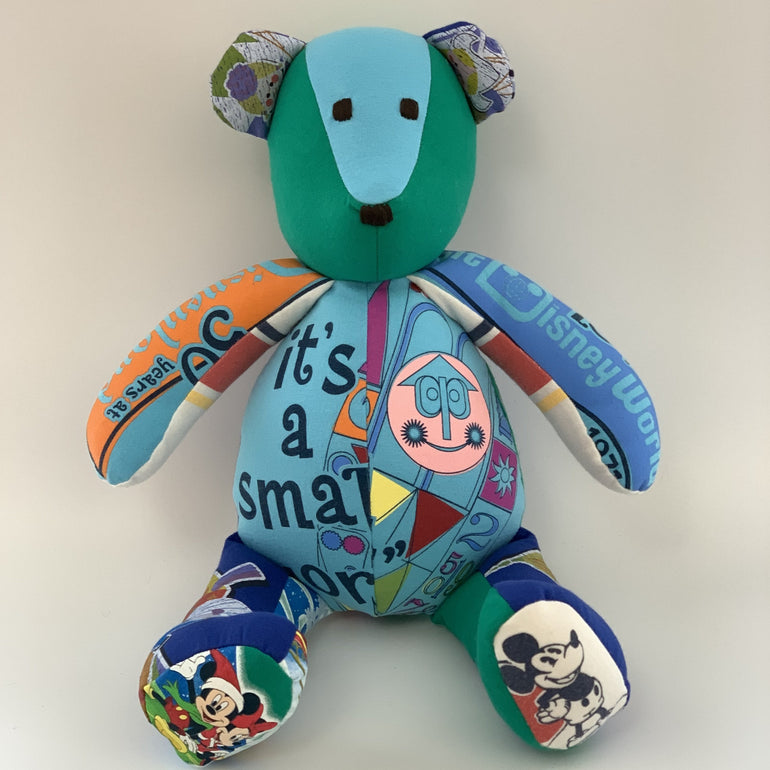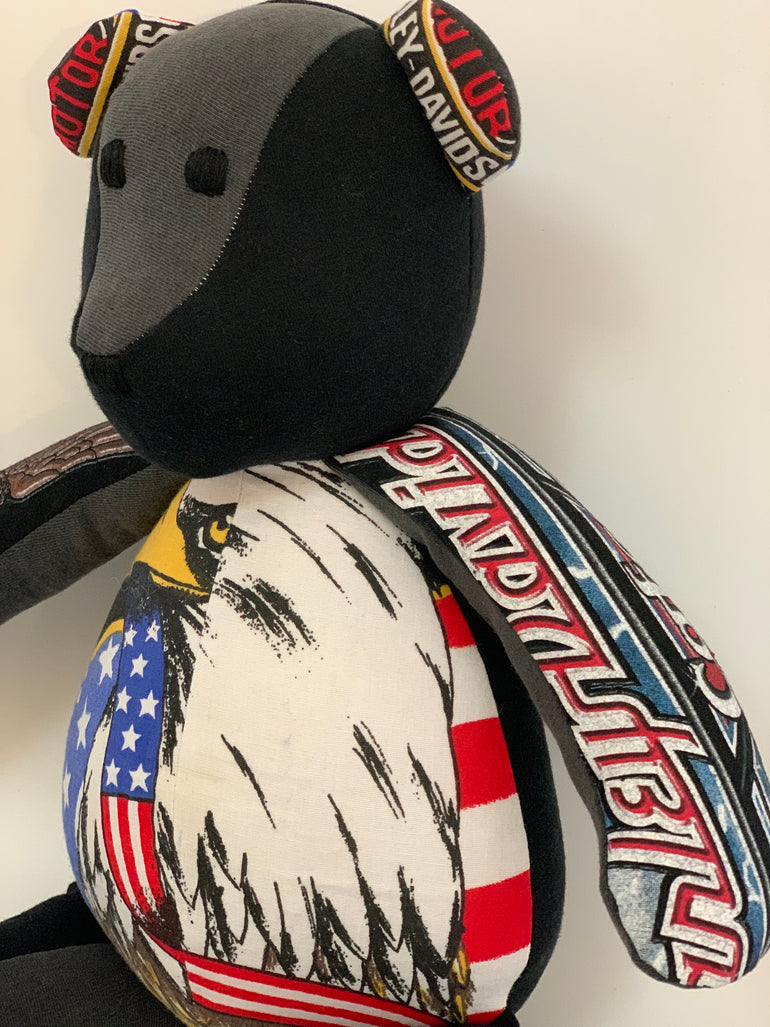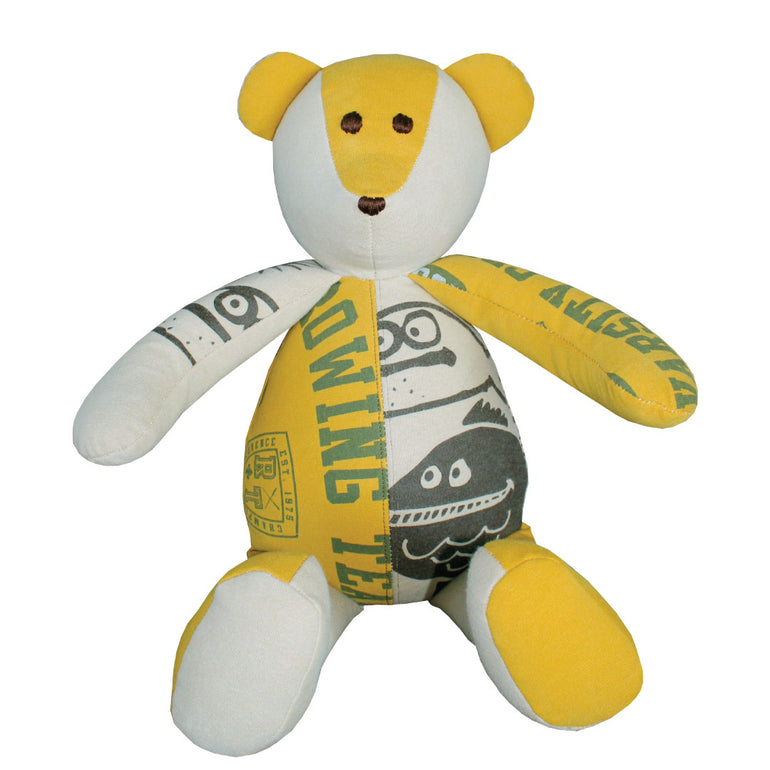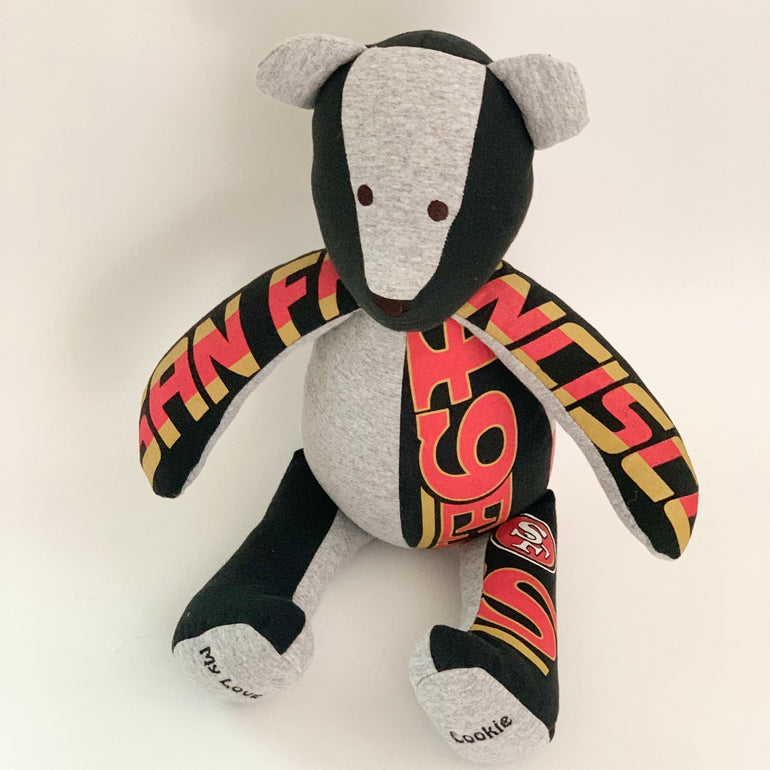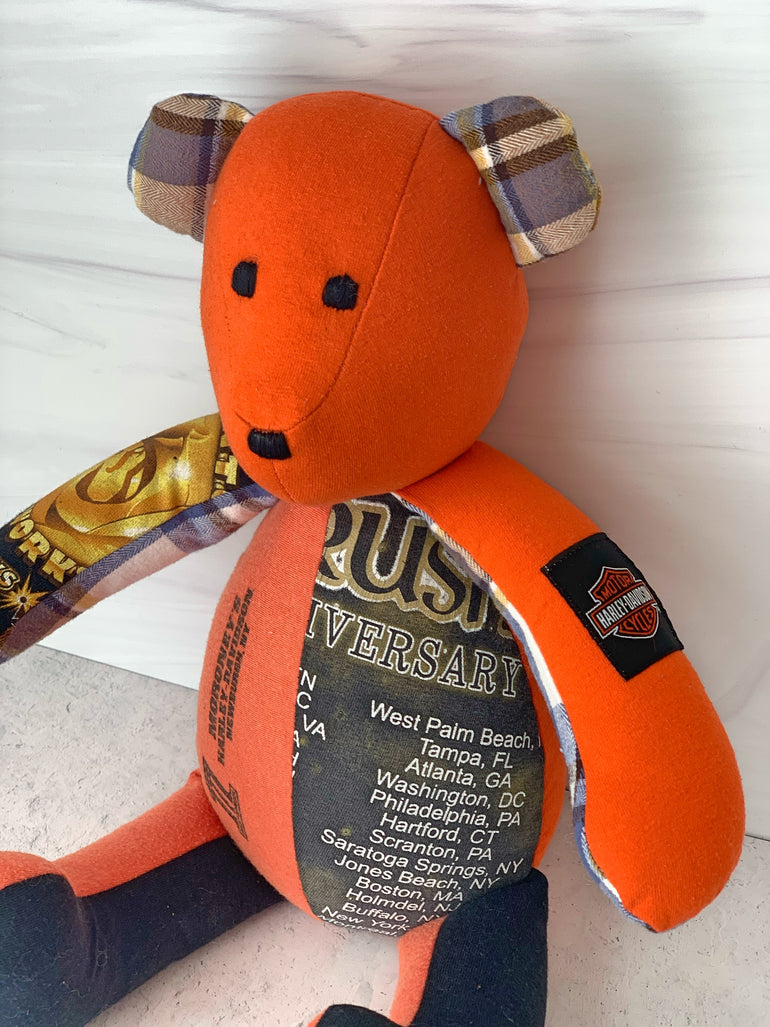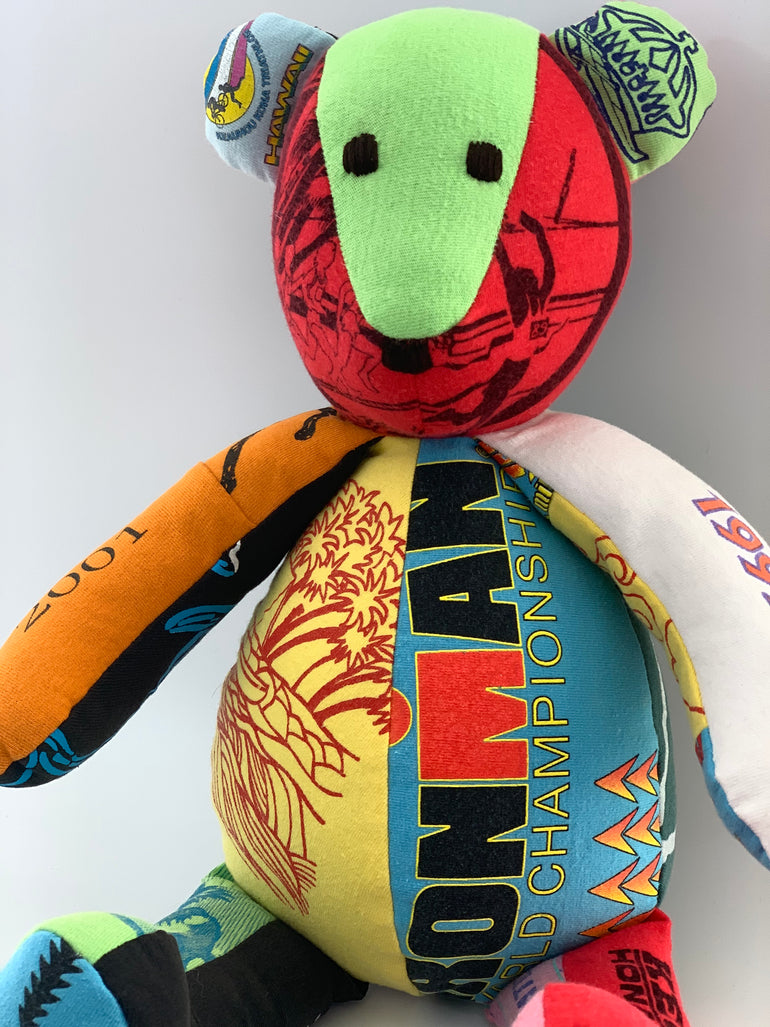 T Shirt Teddy Memory Bear
Do you have a few favorite t-shirts you just can't part with? We can turn them into a memory bear! Depending on the size and condition of the shirt, we need 2 adult size t-shirts to make one memory bear.
How does it work? 
1. Place your order here online.
 2. We will EMAIL shipping instructions**, including tips on choosing clothes and printable order form. Just pick your clothes, fill out the ORDER FORM and send them to:
The Patchwork Bear, 174 Nassau Street #210, Princeton, NJ 08542
3. Approximately 4-6 weeks after we receive your clothes, your custom Keepsake Memory Bear will be complete and shipped back to you! May take longer during holiday and peak seasons). 
That's all there is to it! Easy peasy.
**If you would like to give a Memory Bear as a gift, please order our Memory Bear Gift Kit. (It's the same as this memory bear, just packaged for gift giving!)
Please note: These are keepsake memory bears and not toys. They are not designed or intended for use as a toy for children of any age. While we do not use any buttons, plastic eyes or small parts, they are made entirely from your clothes and therefore have not been tested and do not conform to any safety standards or guidelines in place for children's toys.The Patchwork Bear does not accept any liability for the misuse of these keepsakes. 
Step 1: Order your keepsake product
Step 2: We email shipping instructions and an order form
After your order is processed, we EMAIL shipping instructions & a printable order form.
(Gift Kits will ship in 2-3 days and include an order form, shipping instructions & mailing bag)
Step 3: Send your clothes to the patchwork bear
All packages sent to us are signed for upon receipt and kept in a safe, indoor location. We know your clothes are irreplaceable and we take great care throughout the process
Step 4: receive your keepsake in just a few weeks. Instant heirloom!
Please allow 4-6 weeks for memory bears & animals; 8-12 weeks for quilts & bags. May take longer during holidays (Oct-Dec). 
CONTACT US if you have a specific deadline or any questions. We can't wait to help you save your memories!
---
After having made a bunch of bitty bears, i got used to that size, however when my larger bear arrived, I loved it just as much! Thank you for capturing my daughters dance memories through your bears!
Creative bear
Such a well made and adorable bear. I sent a few pieces of baby clothes and a t shirt and they blended both better than I expected. I really love my bear and very happy with the results.
The work was very high quality, and was within the time line provided when the order was placed. However, when we were approaching the estimated completion date, I requested a status update 4 separate times and never received a response. Everything else was very well done but the lack of communication was disappointing.
So happy you love the way your order turned out. I apologize for the lack of communication while making your bear. As a very small team, most of our time is spent designing/sewing the memory bears so we can complete them within the estimated time frame. During busy production times, we aren't always as timely responding to emails. Communication is key to what we do and I appreciate your review and reminder of this. We will prioritize improving our response times in the future. Thank you!
I love my bear! It was made with T-shirts from the Coast Guard Festival in Grand Haven, MI. It is an event that has many wonderful memories for our family. I'll be ordering more bears for my family!!
So in love with these memory bears! The quality is amazing, I can not believe how perfect they are. I sent in a lot of material that was all 14+ years old, different textures and different thickness.. I was unsure how well they would go together. But they all went to together wonderfully. I am so impressed. If I ever need another keepsake like this I will definitely come back to the Patchwork Bear!
I just love the job that was done with the materials that I sent....beautif job and a great memory bear
So cute loved it! Such a fun way to save an old T-shirt!
My bear was a birthday gift to me. It was a collaboration of several T shirts I did not wear anymore but all meant something. One was Coast Guard that my grandfather, Jim, gave me; two was deep sea from my husband and I wore it thru my three pregnancies; three was Enjoy Life and it was my late father-in-law's, John and four was a Bethany Beach, DE shirt - our family vacation spot. All have stories and meaningful memories for me. My bear currently is in my livingroom for all to see and for me to be reminded daily of these people, stories and memories.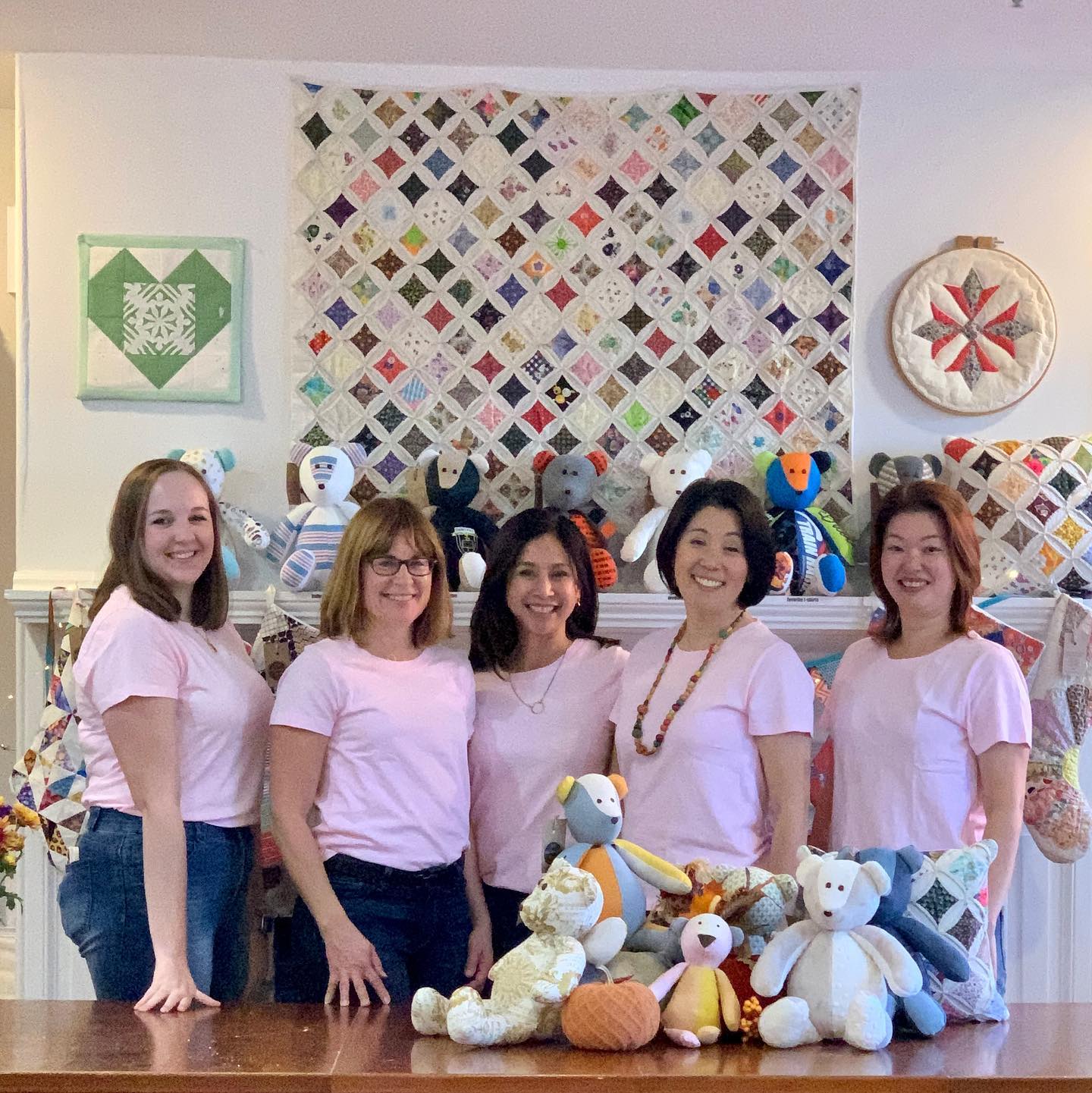 why us?
Why choose The Patchwork Bear to make your custom keepsake?
The Patchwork Bear has been trusted to turn your favorite clothes into keepsakes since 2005 and understand your clothing is irreplaceable- full of stains and memories. We take the utmost care of your clothes in every step of the process from receiving the clothes, to design, to creation and delivery. 
We know it is difficult to send your clothes away to be cut up, but you can trust that our talented design team will transform them into a keepsake you will love. We get to know you through the clothes you send and our goal is to create custom products from clothing that will bring back happy memories. 
award winning
One of Oprahs's Favorite Things
If OPRAH trusts us, you can too! In 2017, we were thrilled to have our Memory Bear chosen as one of Oprah's Favorite Things. 
Our products have received numerous awards and recognition, notably the Creative Child Product of the Year and Oprah's Favorite Things List.