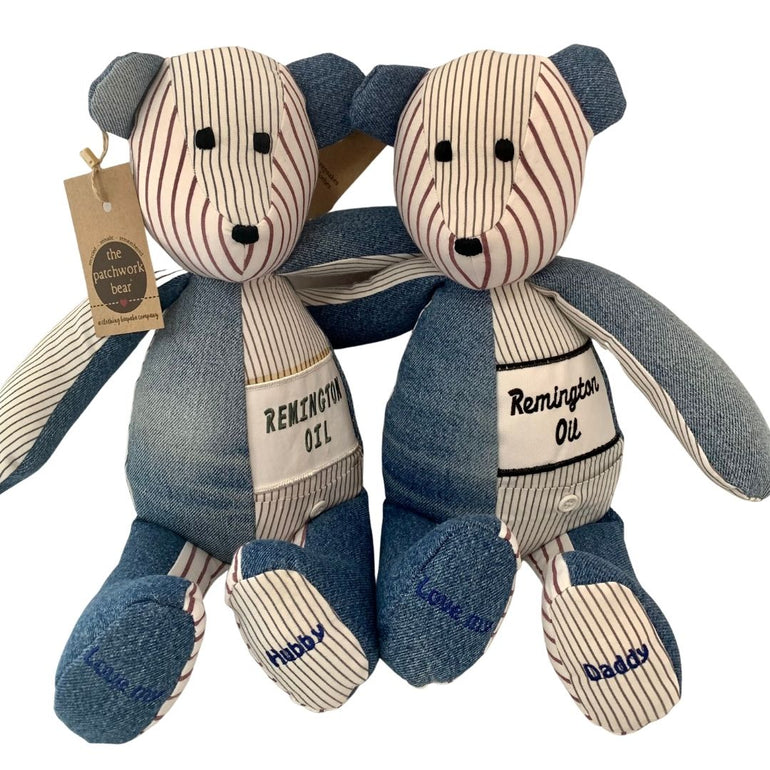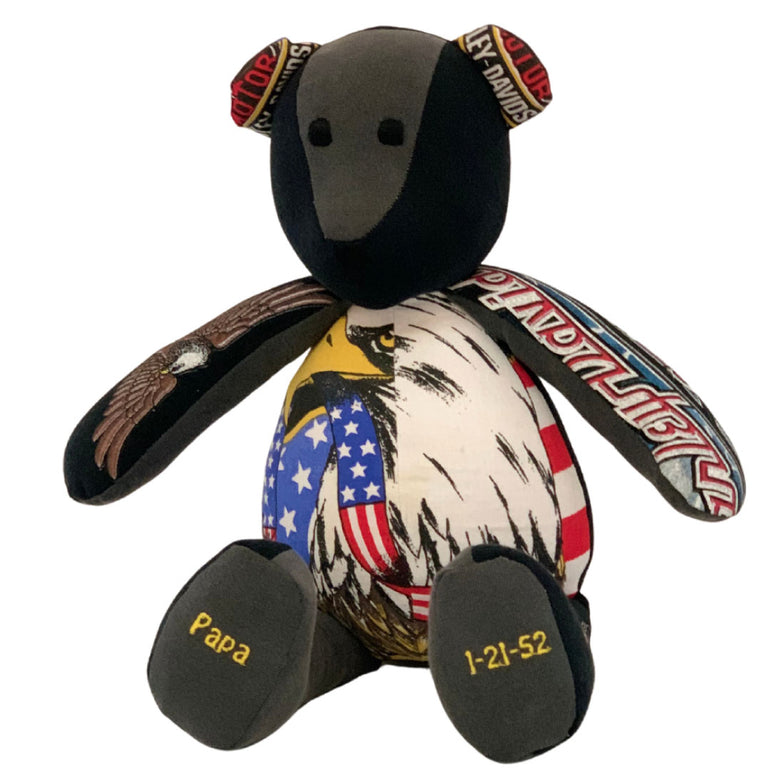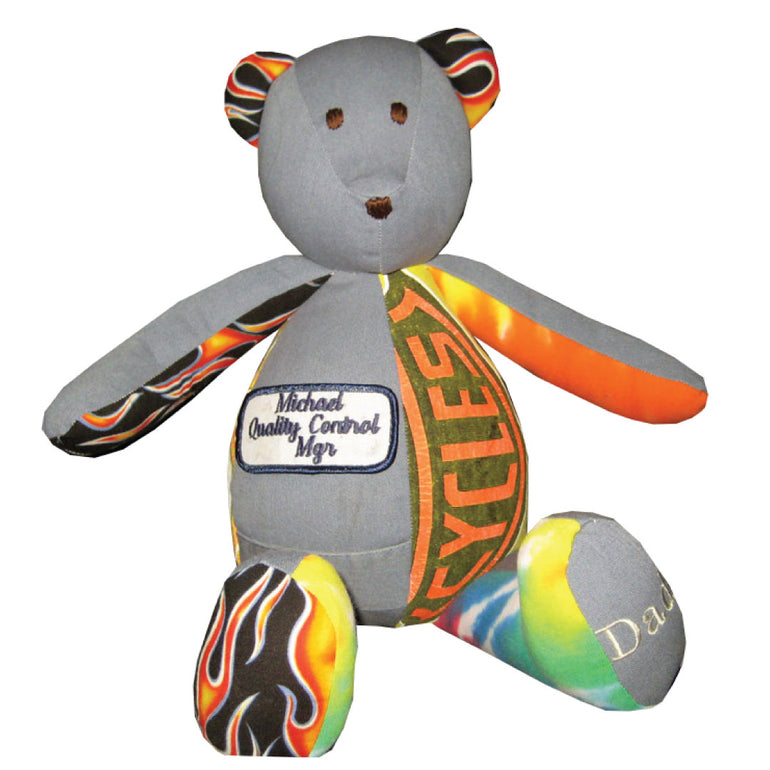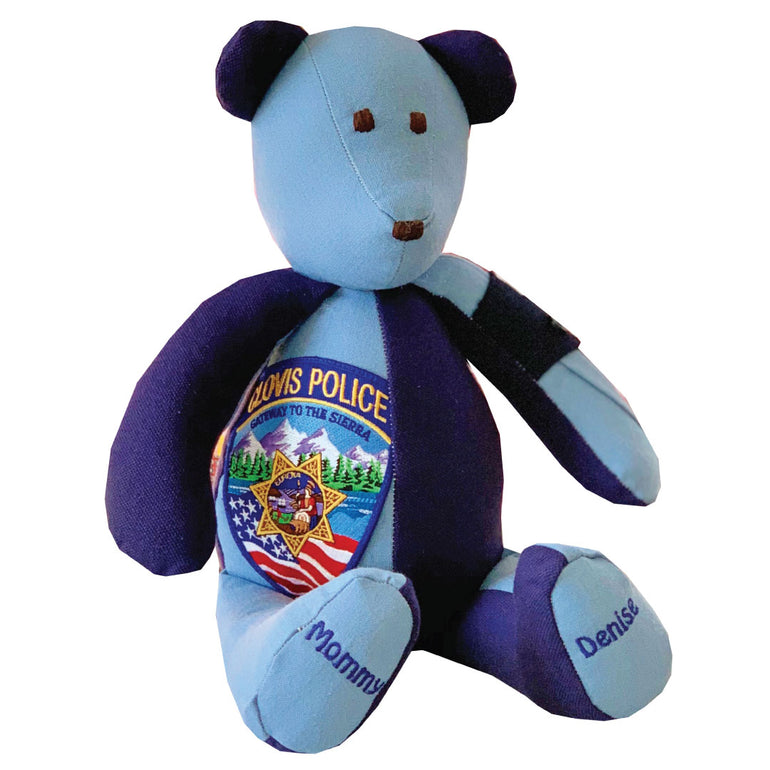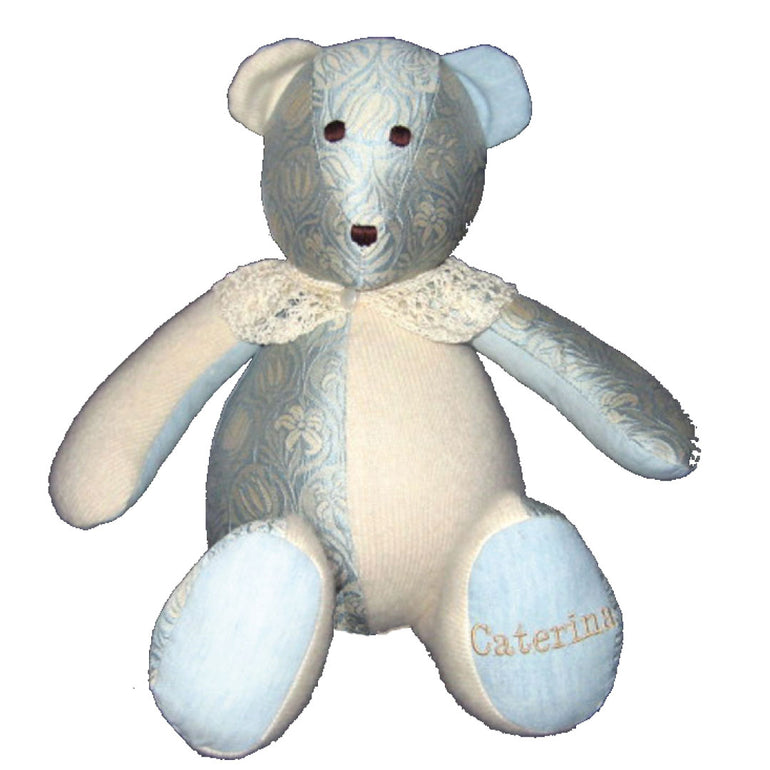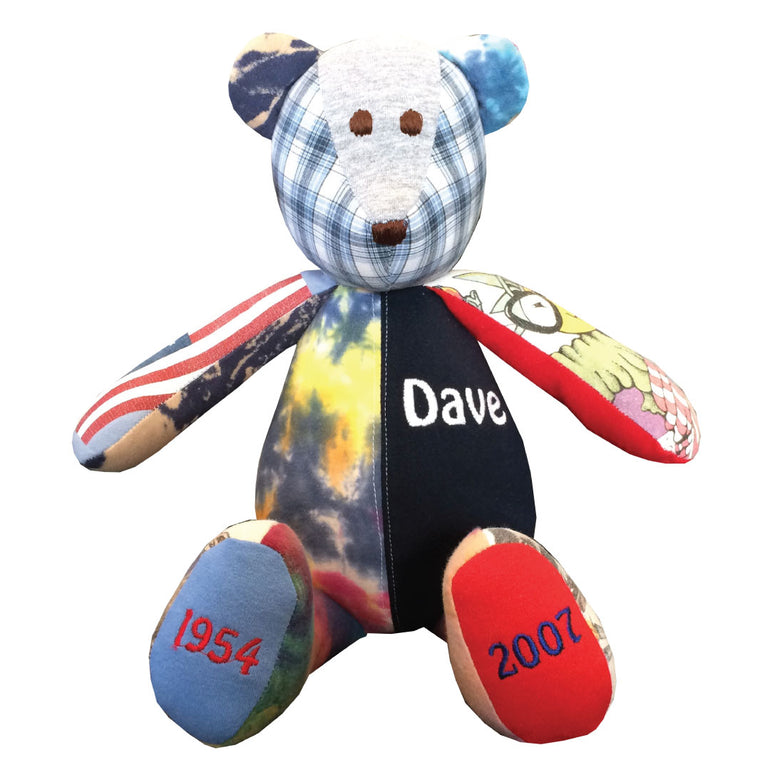 Bereavement Bear, personalized
We know it is hard to lose a loved one. Keep their memory alive with a bereavement bear made entirely from their clothing. These bears are by far the closest to our hearts to make- we hope each bear we make bring comfort and happy memories for every member of the family.  Includes custom personalization on each foot.
With careful attention to detail and quality workmanship, you can trust your loved ones clothes with the team here at The Patchwork Bear. Every stitch is sewn with love & respect, and we hope each bear we make for you brings comfort and happy memories for your entire family.
Your finished bereavement bear measures a perfectly huggable 17 inches tall and features embroidered eyes and nose for added charm and safety.
HOW IT WORKS
Place your order today!
We email shipping instructions and a printable order form 
Send us: 1-2 adult (or 4-8 child) size clothes with the order form
In about 4-6 weeks, you'll receive a memory bear made entirely from the clothes you sent. 
WHY CHOOSE US
We are the ORIGINAL memory bear company, started in 2003 with the goal of saving your memories by up-cyling favorite clothes. You can trust our experience, talent and heart when it comes to saving your memories. 
Your clothes are received and signed for by a real person, not left outside by shipping carriers with the threat of weather damage or theft
We have a professional sewing studio with a small, talented team of designers and makers who share the joy of creating keepsakes for you
We encourage your design input and requests and love to hear stories about the memories made in the clothes you send.
We are one of Oprah's Favorite Things and Creative Child Magazine's Product of the Year 
**If you would like to give a Memory Bear as a gift, please order our Memory Bear Gift Kit. (It's the same as this memory bear, just packaged for gift giving!)
Contact us for a discount on 5 or more memory bears.
(Some photos shown with optional ADD ONs for your memory bear. CLICK HERE to see all our add on options.

Please note: These are keepsakes and not toys. They are not designed or intended for use as a toy for children of any age. While we do not use any buttons, plastic eyes or small parts, they are made entirely from your clothes and therefore have not been tested and do not conform to any safety standards or guidelines in place for children's toys. The Patchwork Bear does not accept any liability for the misuse of these keepsakes. 
Step 1: Order your keepsake product
Step 2: We email shipping instructions and an order form
After your order is processed, we EMAIL shipping instructions & a printable order form.
(Gift Kits will ship in 2-3 days and include an order form, shipping instructions & mailing bag)
Step 3: Send your clothes to the patchwork bear
All packages sent to us are signed for upon receipt and kept in a safe, indoor location. We know your clothes are irreplaceable and we take great care throughout the process
Step 4: receive your keepsake in just a few weeks. Instant heirloom!
Please allow 4-6 weeks for memory bears & animals; 8-12 weeks for quilts & bags. May take longer during holidays (Oct-Dec). 
CONTACT US if you have a specific deadline or any questions. We can't wait to help you save your memories!
---
Wonderful
I had this Teddy bear made as a gift for my 1st granddaughter to be born the end of July. My husband passed away very suddenly from a PE after surgery. The shirt I picked was one that my daughter bought for him, so I used that for her daughter. We both cried. Im sure you hear that all the time, but Pap-Paps with us now. 💕
Bereavement bear
The bear that was made for us was so cute. It was well made, done in a timely manner, sent back wrapped perfectly, and we couldn't have been happier. Thank you.
Terry Hodge
We Love it so much .patch work did a awesome work on our memory bear of our daughter ❤️
Amazing!
I am so amazed and thankful for what you did with my dad's clothes. It couldn't have turned out more. Perfect! It is something that I will treasure for the rest of my life, and it was worth every penny! Please continue to do what you do, you guys will always hold a special place in my heart! Thank you so much
Cherished keepsake
A beautiful product made with care that will be treasured always. I will be giving my bear made from my late wife's clothes to her mother. I will be ordering additional bears for other family members including myself. Thank You
AMAZING!
Absolutely love it!!! It felt so incredible to the bear for the first time. I am already planning on having two more made for family members. Thank you for doing such an amazing job!
Beyond Expectations
I ordered 3 bears with clothes that were my Mom's who passed away in January! Two of the bears were made out of the pajamas she wore in her final days and one ( that was for my son - his mama) was the outfit she wore to his wedding! She will be missed dearly but the bears bring back memories of her daily!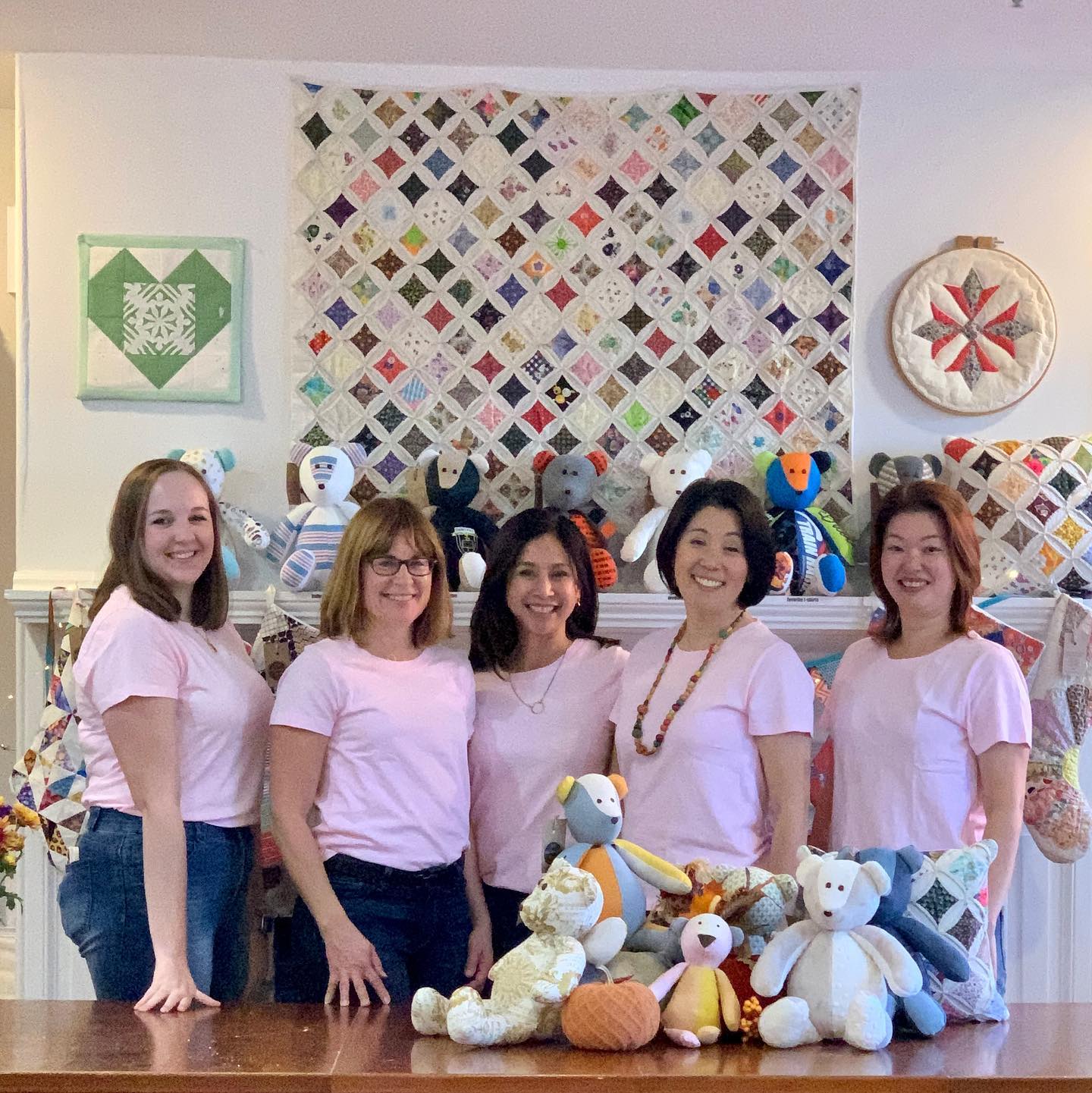 why us?
Why choose The Patchwork Bear to make your custom keepsake?
The Patchwork Bear has been trusted to turn your favorite clothes into keepsakes since 2005 and understand your clothing is irreplaceable- full of stains and memories. We take the utmost care of your clothes in every step of the process from receiving the clothes, to design, to creation and delivery. 
We know it is difficult to send your clothes away to be cut up, but you can trust that our talented design team will transform them into a keepsake you will love. We get to know you through the clothes you send and our goal is to create custom products from clothing that will bring back happy memories. 
award winning
One of Oprahs's Favorite Things
If OPRAH trusts us, you can too! In 2017, we were thrilled to have our Memory Bear chosen as one of Oprah's Favorite Things. 
Our products have received numerous awards and recognition, notably the Creative Child Product of the Year and Oprah's Favorite Things List.