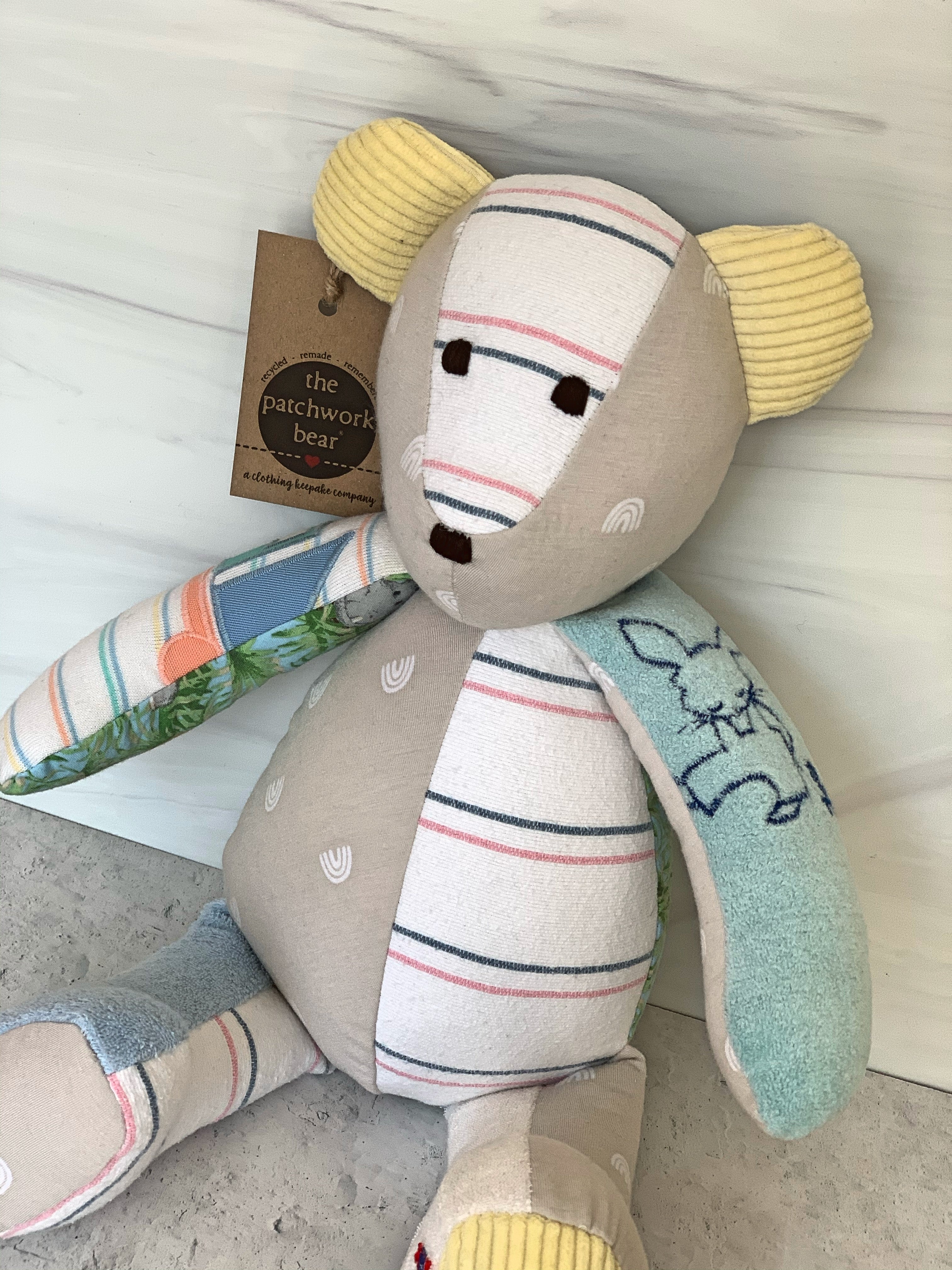 what is a clothing keepsake?
The shirt that makes you smile...
Clothes, like photos, songs and even smells- hold memories from the times when we wore them: baby's coming home outfit, college t-shirts, team jerseys, grandma's favorite robe, even wedding dresses. We all have these tucked away in bins and boxes, but wouldn't it be better if you could see and feel those memories every day?
Our Promise
Your clothing & memories handle with love & care
We know it's hard to part with irreplaceable clothes and the memories they hold and we don't take that responsibility lightly.That's why we go above and beyond to ensure the safety of your clothes from start to finish. We know each keepsake is as unique as the person whose clothes we are making them from and give it the love and care it deserves.
Instant heirlooms, expertly handcrafted
We save your memories and give your clothes new life by turning them into memory bears, quilts, pillows and more.

We've been making keepsakes out of clothes for over 20 years and have the expertise, experience and talent to turn your clothes into an instant heirloom that will preserve the memories of you and your loved ones.
As the ORIGINAL Memory Bear Company, we're one of Oprah's Favorite Things and have been featured in People, CBS Morning, Good Housekeeping and are Creative Child's Product of the Year. A celebrity favorite, our bears have been spotted with Jessica Alba, Jennifer Garner, Nicole Kidman, Matthew MacConaughey and more.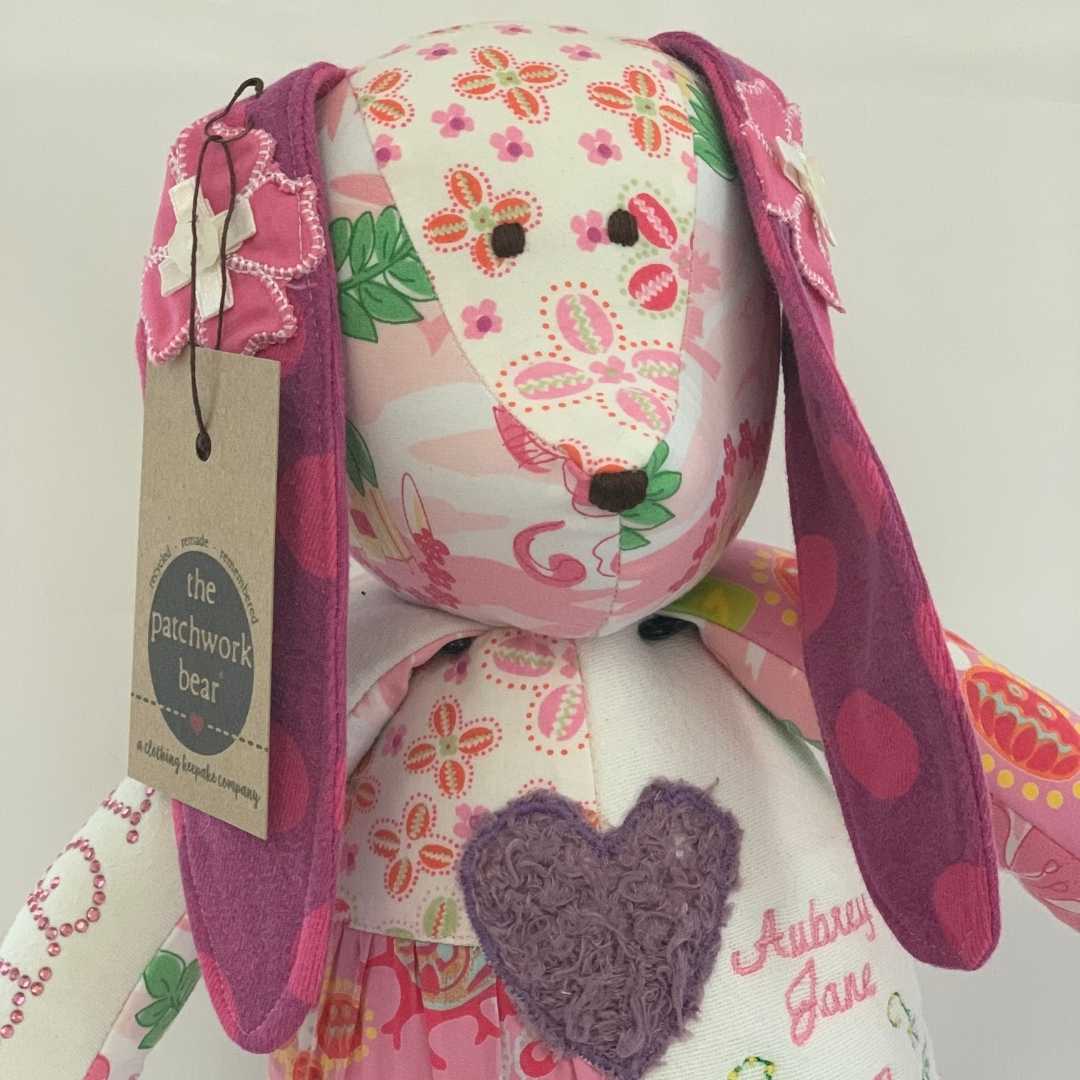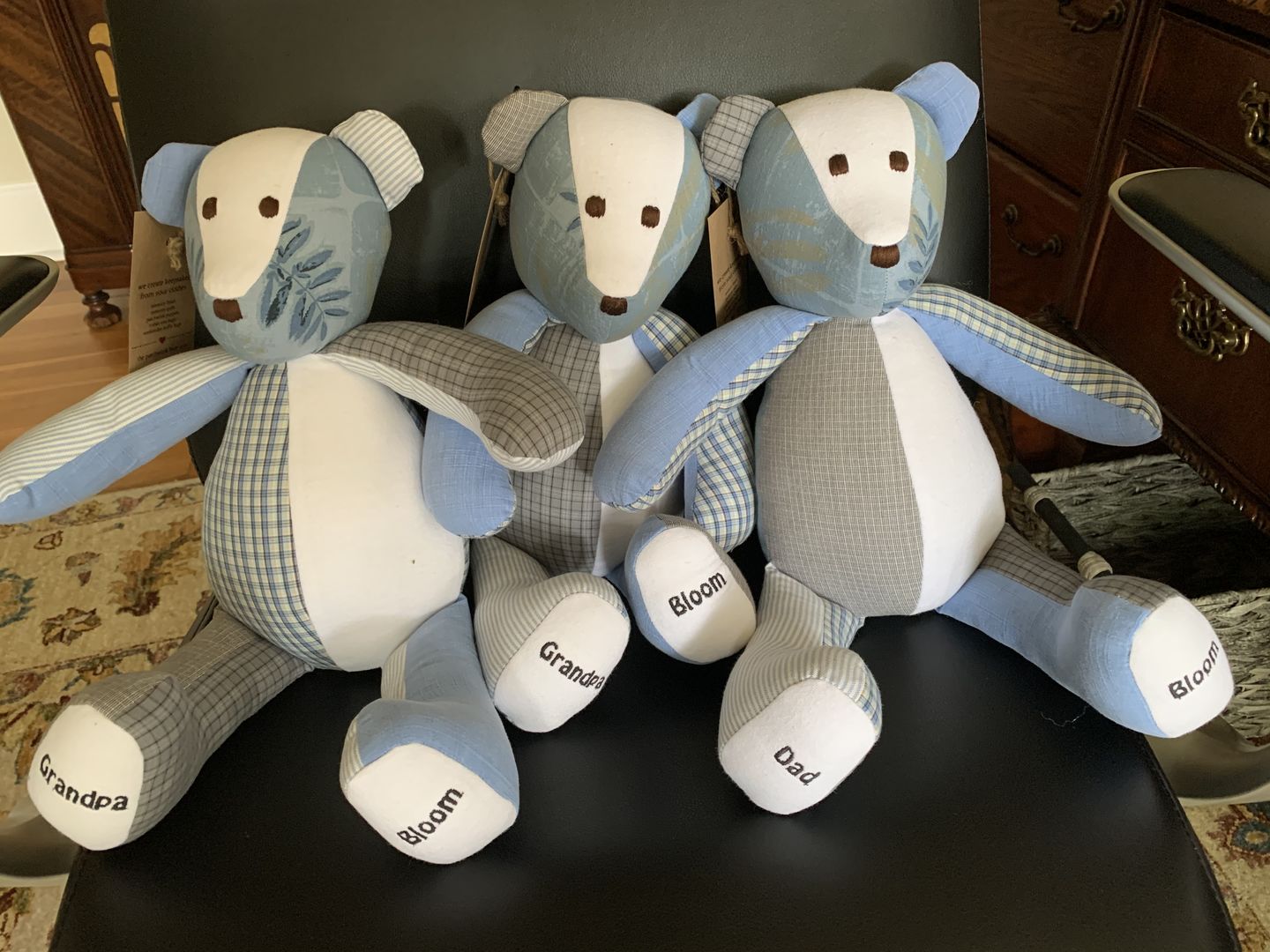 Easier than organizing your clothes
We make the process simple: just place your order online, we send shipping instructions, then send us your clothes. We'll take all the unique qualities of your clothes and transform them into a memory bear or other keepsake you will love. Your clothes: recycled, remade, remembered.
What our customers say:
Something tangible and beautiful that we can hold in our time of great grief...
meet the maker
The Patchwork Bear was founded by Jennifer Cura who combined her skill as an architect with her love of design and sewing to create a line of handmade keepsakes that are as cherished and personal as those who own them. 

What started as a hobby in Jen's basement has grown to a full sewing studio in Pennington, NJ. Together with a talented & thoughtful team, they offer a service that helps save memories, remember loved ones and give new life to favorite clothes. 

"Each and every order is unique and special in it's own way, and we love getting to know you through the clothes you send us. The most rewarding part for me is seeing how our designs touch your life by bringing back happy memories.."

- Jennifer Cura, founder of The Patchwork Bear
support small business
support small business
We're a small, woman-owned business and each keepsake is handmade with love. When you buy from us, you're supporting a dream and small businesses. We make every effort to source our materials locally and purchase with like-minded ethically conscious companies.

sustainability
We're proud to be registered as a New Jersey Sustainable Business. Sustainability & sentimentality is at the heart of what we do. Upcycling clothes helps keeps some of the 21 billions pounds of textile waste out of landfills annuallly.
It's a small part, but as Van Gogh said, " Great things are not doone by impulse, but by a series of small things brought together."