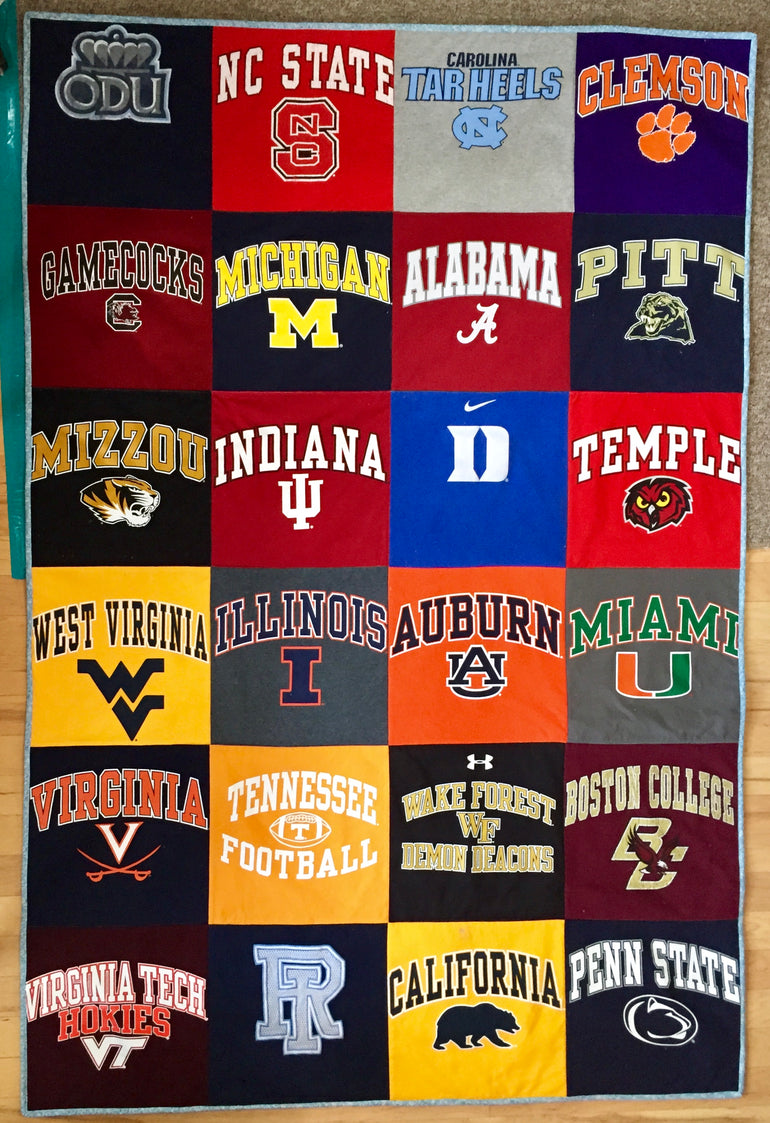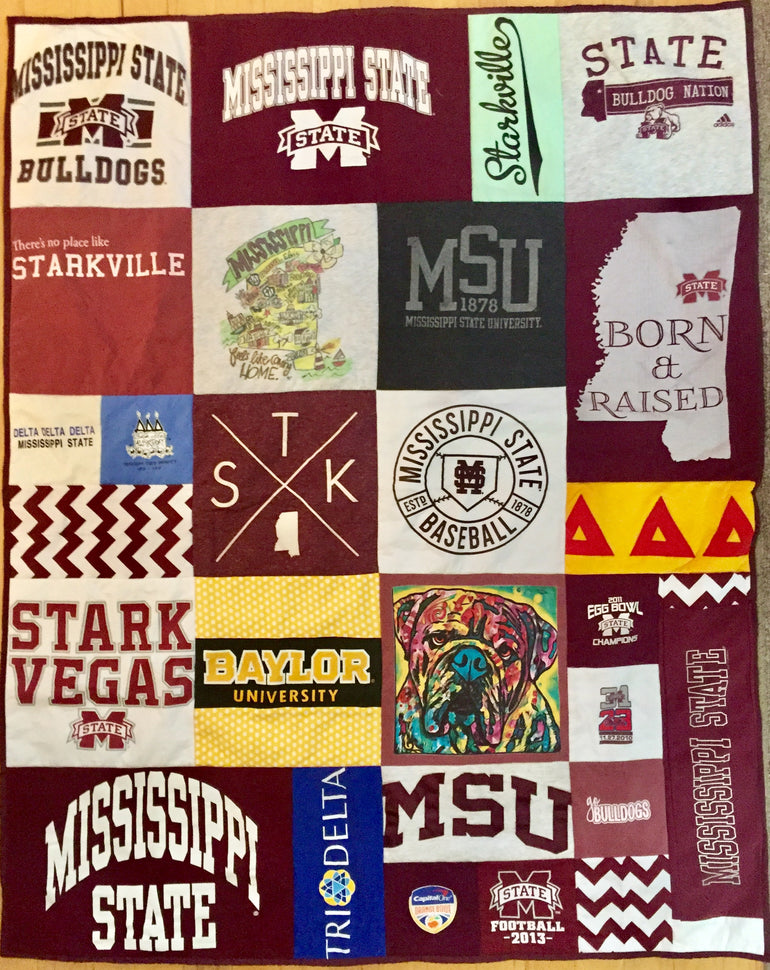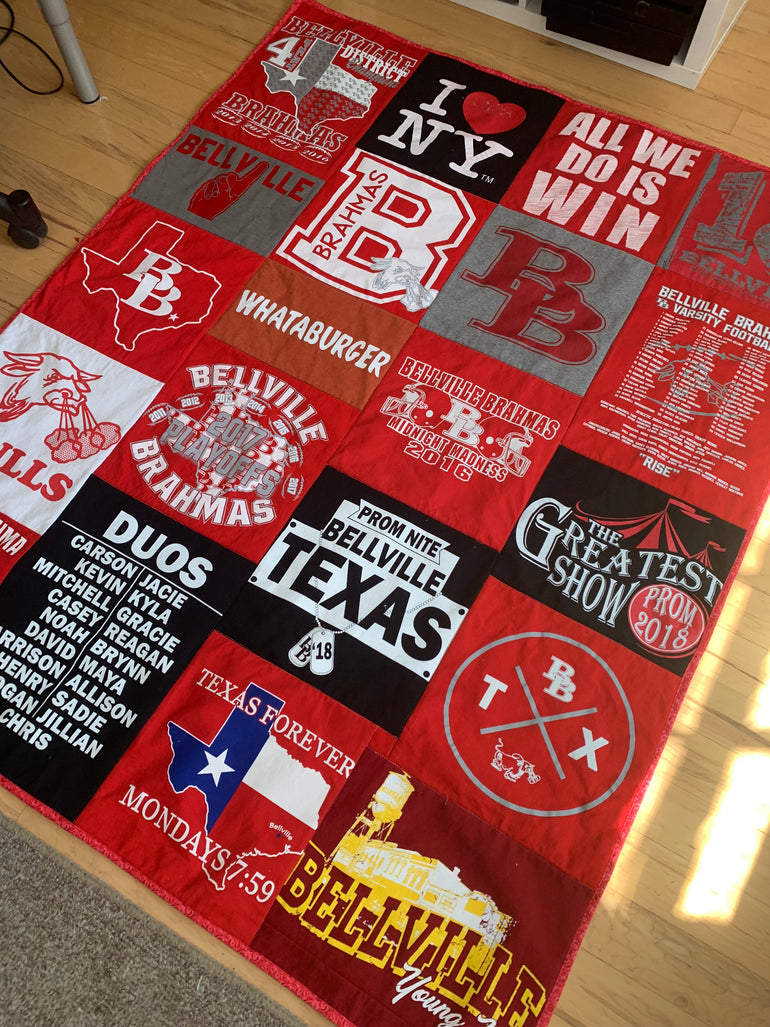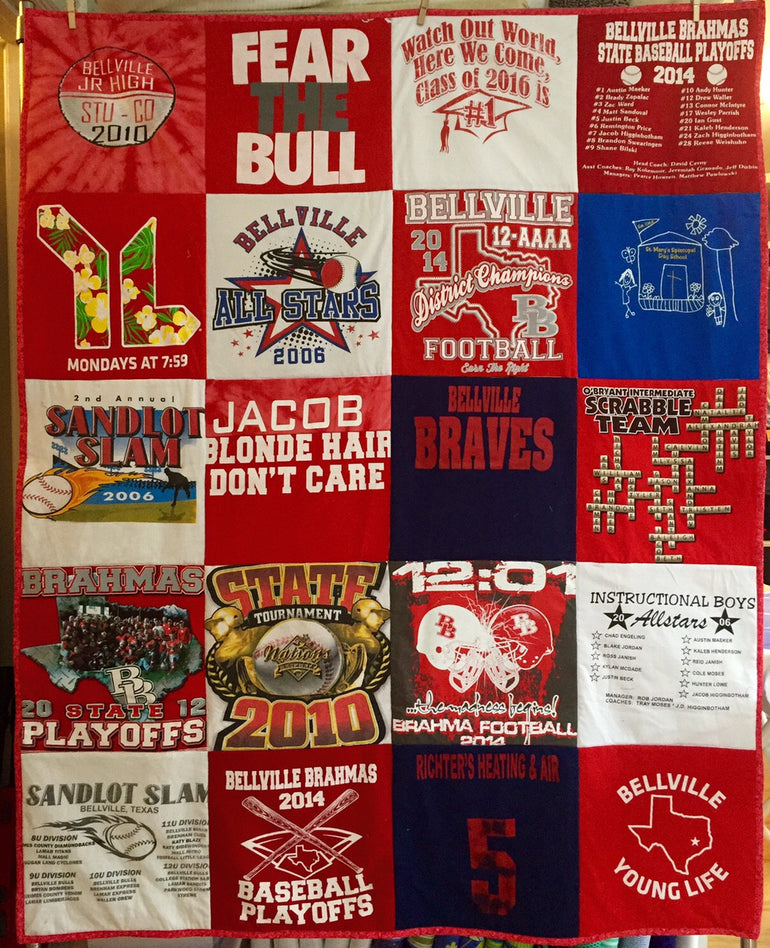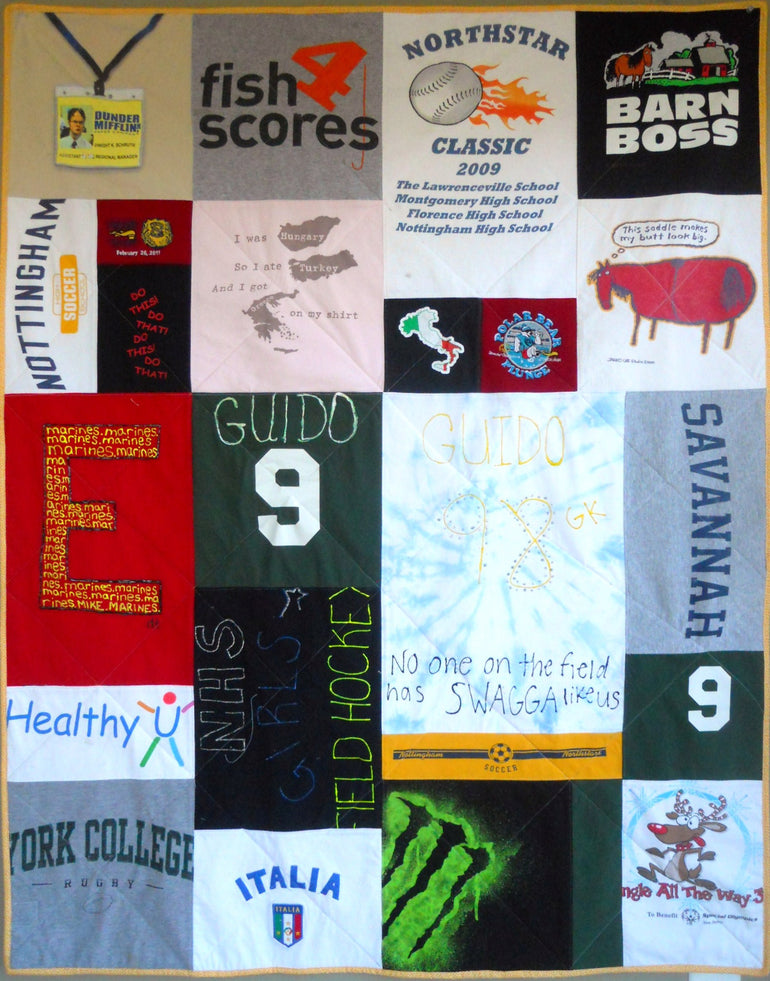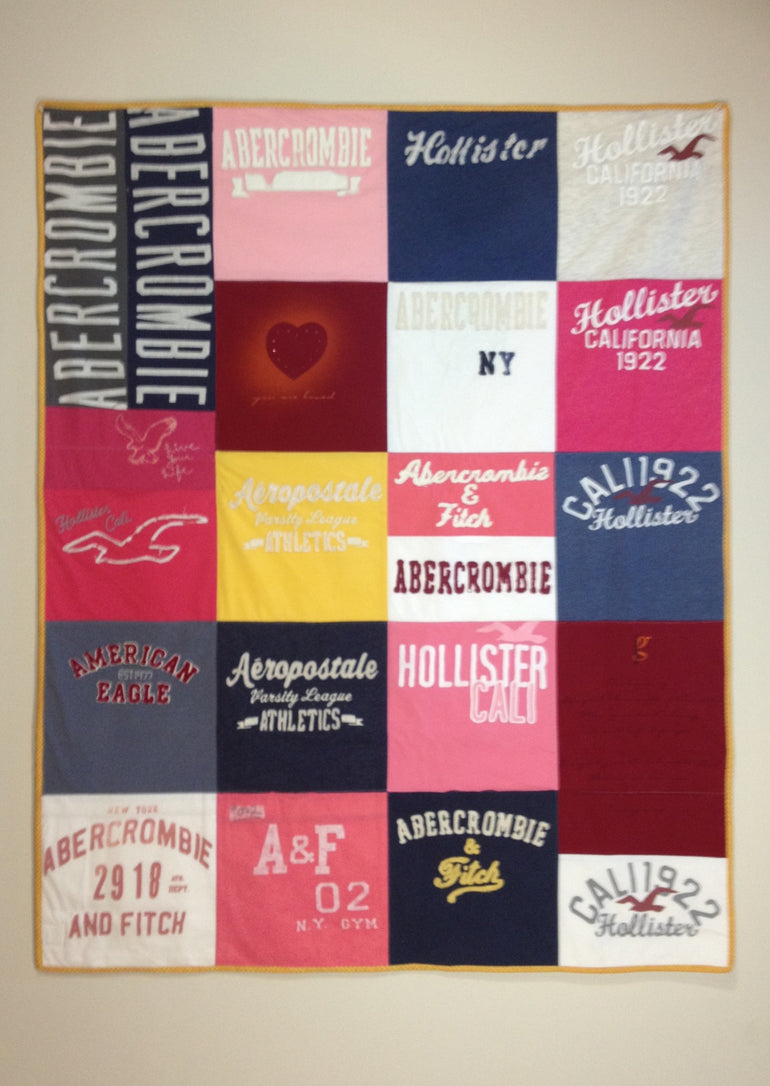 We are currently SOLD OUT of Memory Quilts for 2023
CLICK HERE to add your name to the waitlist if you would like to be notified if additional openings become available. We will accept new orders on a first come, first serve basis so it's recommended to add your name to the wait list.
- - - - - - - - - - - - - - - - - - - - - - - - - -
Transform your favorite t-shirts into a Keepsake Quilt!
Our best-selling t-shirt quilt is about the size of a couch throw and measures 48x60 inches and made from 20 different t-shirts.
Each quilt is made up of 20, twelve-inch squares cut from your t-shirts. Blocks will be stabilized and individually cut to maximize each unique design. 
As each quilt is custom-made to order, we can adjust the design of each quilt to incorporate logos, text and graphics on your t-shirts. Simply include your design ideas when shipping your t-shirts and add notes in the "comments" section at checkout.
NOTE: If you have clothes that you want cut in various sizes other than 12x12 inches square, then please order the ORIGINAL MEMORY QUILT
**Please do not cut your t-shirts, we will do that for you! After placing your order, send t-shirts to:
The Patchwork Bear, 174 Nassau St #210, Princeton, NJ 08542
Step 1: Order your keepsake product
Step 2: We email shipping instructions and an order form
After your order is processed, we EMAIL shipping instructions & a printable order form.
(Gift Kits will ship in 2-3 days and include an order form, shipping instructions & mailing bag)
Step 3: Send your clothes to the patchwork bear
All packages sent to us are signed for upon receipt and kept in a safe, indoor location. We know your clothes are irreplaceable and we take great care throughout the process
Step 4: receive your keepsake in just a few weeks. Instant heirloom!
Please allow 4-6 weeks for memory bears & animals; 8-12 weeks for quilts & bags. May take longer during holidays (Oct-Dec). 
CONTACT US if you have a specific deadline or any questions. We can't wait to help you save your memories!
---
Impeccable work!
Could not have expected a more beautiful t-shirt quilt. My son absolutely loved his gift! It was clearly made with love and attention to detail.
Wonderful Memory Quilt
My husband passed away May 2021. As I donated his clothes, I realized I couldn't donate his t-shirts. They were of schools we or our family attended (Wisconsin, Penn, Stanford, JPL), places we visited (Aruba, Israel, Sienna), events such as Gilbert & Sullivan as well as a custom made t-shirt showing him with our two cats. All these plus a selection of his ties, were sewn into a beautiful, well-made quilt. It is very Stuart and a wonderful keepsake. Highly recomnend. Terrific customer service.
Absolutely beautiful
The quilt is absolutely beautiful. So much heart went into making it. It will be forever cherished
Fantastic!
My son loves his tshirt quilt! It brings back so many memories in one place, and is useful, too! They did a great job, we highly recommend!
Hockey Quilt
For two years I have been planning on presenting my son with a hockey jersey quilt for his Highschool graduation. Jenn and her team did a wonderful job. The quilt came out beautiful. She was so easy to work with and accommodating. I would highly recommend The Patchwork Bear!
I am so pleased with the quilt. It is everything I had hoped for. You have a very creative team who do excellent work.
Much appreciation and thanks.
Pat Novack
The blanket is amazing! Very well put together.
I am getting ready to order another blanket from sweatshirts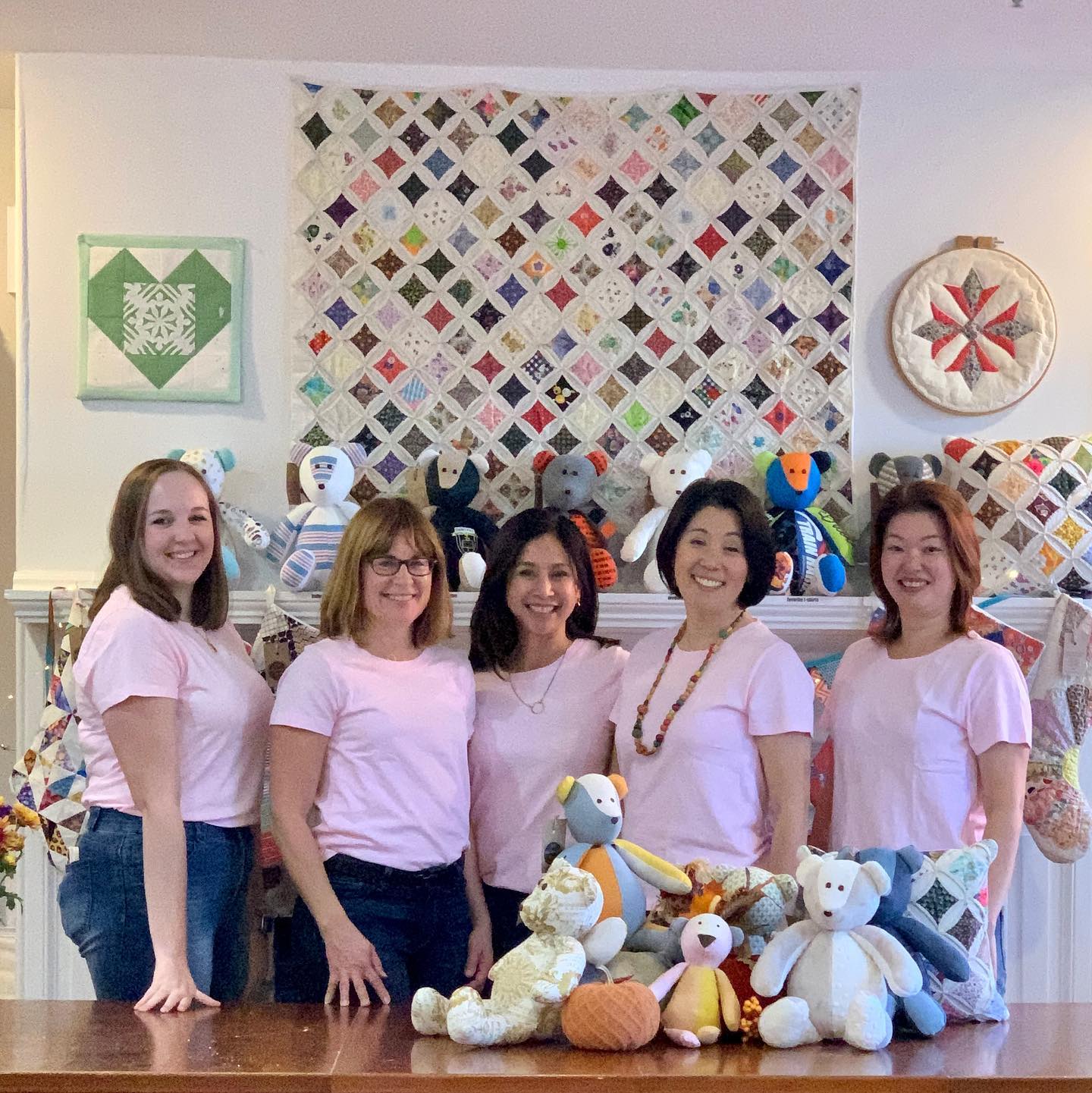 why us?
Why choose The Patchwork Bear to make your custom keepsake?
The Patchwork Bear has been trusted to turn your favorite clothes into keepsakes since 2005 and understand your clothing is irreplaceable- full of stains and memories. We take the utmost care of your clothes in every step of the process from receiving the clothes, to design, to creation and delivery. 
We know it is difficult to send your clothes away to be cut up, but you can trust that our talented design team will transform them into a keepsake you will love. We get to know you through the clothes you send and our goal is to create custom products from clothing that will bring back happy memories. 
award winning
One of Oprahs's Favorite Things
If OPRAH trusts us, you can too! In 2017, we were thrilled to have our Memory Bear chosen as one of Oprah's Favorite Things. 
Our products have received numerous awards and recognition, notably the Creative Child Product of the Year and Oprah's Favorite Things List.