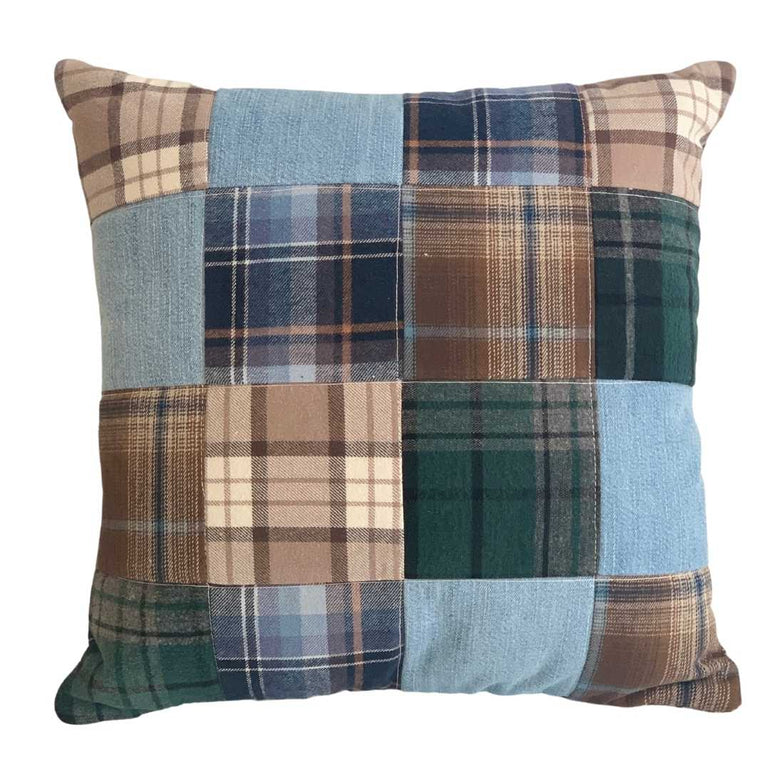 We have currently reached production capacity to make MEMORY PILLOWS through December 2023. Please CLICK HERE to add your name to our waitlist and we'll let you know when we open back up for new orders. 
Save your clothing memories in a patchwork pillow made entirely from clothing you send us. We cut them down to 16 blocks and piece them to make a 16x16 square pillow. 
One side of the pillow is made in a traditional patchwork style of 1-4 different clothes. Reverses to 4 larger square patches. 


(Second photo shown with optional poem patch and tiny heart add on)
Step 1: Order your keepsake product
Step 2: We email shipping instructions and an order form
After your order is processed, we EMAIL shipping instructions & a printable order form.
(Gift Kits will ship in 2-3 days and include an order form, shipping instructions & mailing bag)
Step 3: Send your clothes to the patchwork bear
All packages sent to us are signed for upon receipt and kept in a safe, indoor location. We know your clothes are irreplaceable and we take great care throughout the process
Step 4: receive your keepsake in just a few weeks. Instant heirloom!
Please allow 4-6 weeks for memory bears & animals; 8-12 weeks for quilts & bags. May take longer during holidays (Oct-Dec). 
CONTACT US if you have a specific deadline or any questions. We can't wait to help you save your memories!
---
Memory Bear and Memory pillow
Waited several years to order. Other sites seemed confusing. Ordered pillow and bear. Beautifully done. Couldn't be more pleased from ease of ordering to finish…so happy! Thank u so much Patchwork Bear
The best Mother's day gift ever
My mother after 62 years was going to throw her wedding dress out and her husband's wedding suit because she no longer had room to store it and could not justify in keeping it now she has it sitting on her couch as a reminder of happier times
Love ❤️ my memory pillows!
I ordered two memory pillows. I am so pleased with the pillows that have been made. I love the way the clothes I sent in were used to make two beautiful pillows, the quality of the workmanship, and the care that went in to making my pillows. Thank you so much. These pillows are a keepsake that I will treasure ♥️ By the way, in the past I have ordered memory bunnies for my granddaughters and memory bears for my grandsons and an itty bitty bear for me. I love them all!! Thank you for offering this beautiful service to help remember a loved one.
Love my pillow!
I ordered a memory pillow for my late husband, and it is perfect. He wore solid colored tee shirts, and the design using the patches I sent with the shirts look so nice.
Thank you, Patchwork Bear!
Keep sake pillows!
I had 2 pillows and 2 Christmas stockings made out of my mother in laws clothes. They came out absolutely beautiful!! My husband loves the pillows so much! My daughters were so happy with the Christmas stockings that we hung up. My sister also had teddy bears made from her husbands clothes that she could not part with. I definitely recommend the patch work bear for anyone who is looking for something special made out of their loved one's clothes.
Highly Recommend!!
Jennifer from The Patchwork Bear is an absolute expert in her craft! She does amazing work in a timely manner and truly takes pride in each piece she works on. She kept me informed throughout the entire process and made it a priority to complete my product expeditiously. My sister absolutely adores her new pillow made from our brothers' shirts to which she will cherish forever! Thank you so much Jen from The Patchwork Bear!
Very high quality work
I am very content with the work they did with my deceased family member's clothing. It is professional, high-quality, and most importantly reverential. They understand how meaningful these keepsakes are and they handle it all with the utmost respect for our loved ones. I would highly recommend.
Awesome
I was very pleased with my purchase. Well worth the wait. :)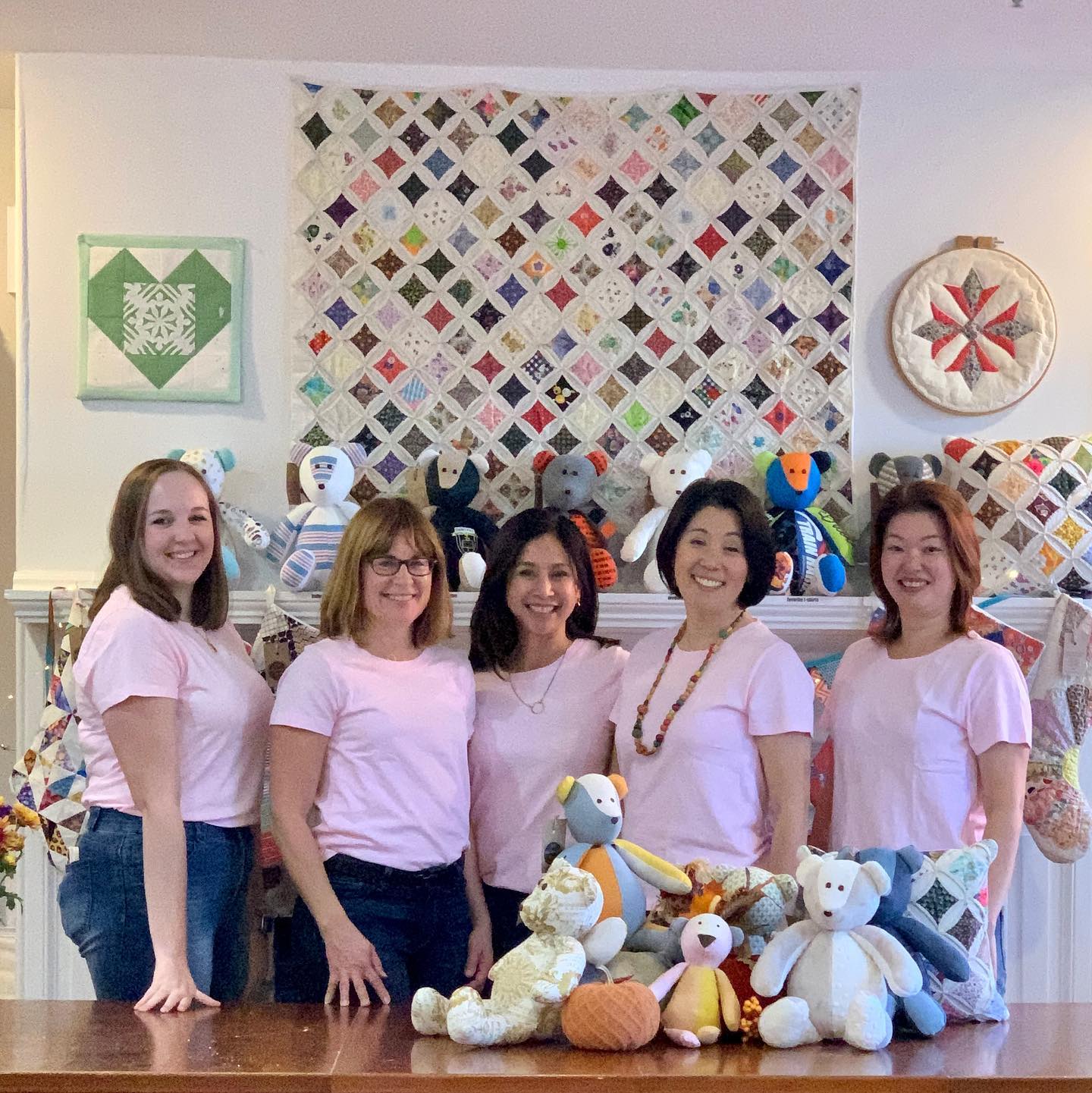 why us?
Why choose The Patchwork Bear to make your custom keepsake?
The Patchwork Bear has been trusted to turn your favorite clothes into keepsakes since 2005 and understand your clothing is irreplaceable- full of stains and memories. We take the utmost care of your clothes in every step of the process from receiving the clothes, to design, to creation and delivery. 
We know it is difficult to send your clothes away to be cut up, but you can trust that our talented design team will transform them into a keepsake you will love. We get to know you through the clothes you send and our goal is to create custom products from clothing that will bring back happy memories. 
award winning
One of Oprahs's Favorite Things
If OPRAH trusts us, you can too! In 2017, we were thrilled to have our Memory Bear chosen as one of Oprah's Favorite Things. 
Our products have received numerous awards and recognition, notably the Creative Child Product of the Year and Oprah's Favorite Things List.