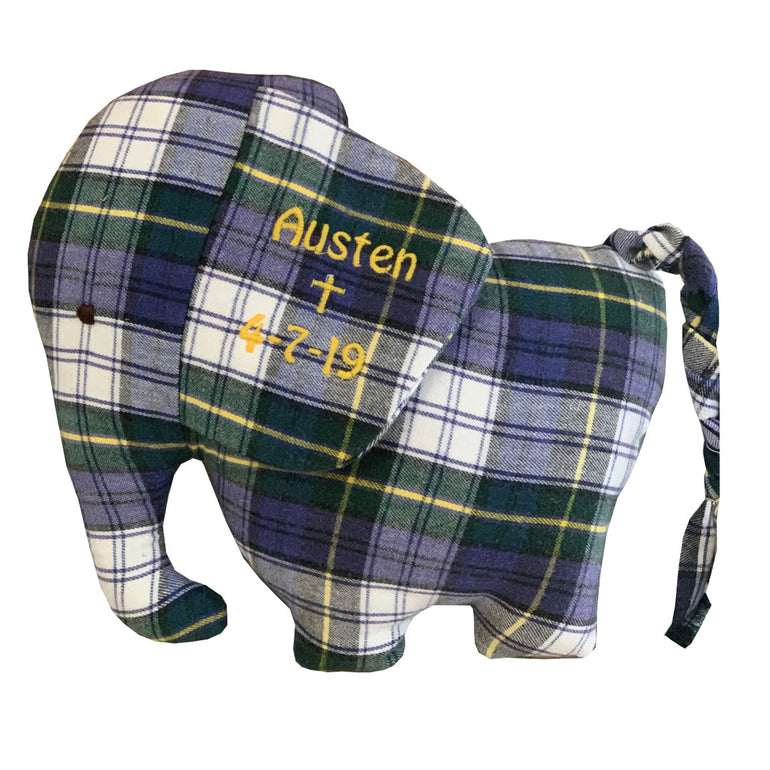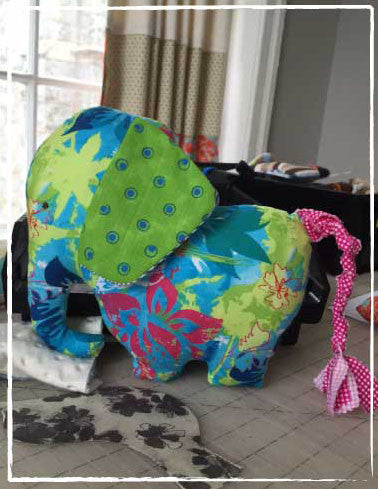 We love this sweet elephant! It is ideal to send two articles of clothing for the elephant (contrasting ears/tail look best) but we can also just use one item if it is child-sized 4T or larger.
His ears are hand-embroidered for added charm and safety. Measures approximately 9 inches tall x 10 inches wide.
Please allow 6-8 weeks to create your custom Memory Elephant. 
Step 1: Order your keepsake product
Step 2: We email shipping instructions and an order form
After your order is processed, we EMAIL shipping instructions & a printable order form.
(Gift Kits will ship in 2-3 days and include an order form, shipping instructions & mailing bag)
Step 3: Send your clothes to the patchwork bear
All packages sent to us are signed for upon receipt and kept in a safe, indoor location. We know your clothes are irreplaceable and we take great care throughout the process
Step 4: receive your keepsake in just a few weeks. Instant heirloom!
Please allow 4-6 weeks for memory bears & animals; 8-12 weeks for quilts & bags. May take longer during holidays (Oct-Dec). 
CONTACT US if you have a specific deadline or any questions. We can't wait to help you save your memories!
---
Received Elephant As Gift
I received the elephant as a gift and it was the most special surprise and gift I could have gotten! Unforgettable! I am so thankful for my elephant. It's made well, very cute, and the person who got it for me had a good experience with the people who made it and got a lot of help from them during the process! Thank you so much for all that y'all do, it's truly great work! I would recommend this service to people I know for sure.
Beyond happy
I am so happy with how my elephants turned out. My son's shirts turned out to be an amazing gift for our family. Its hard to put into words what a beautiful job was done. I am so appreciative for the talent and we now have a special memory! FOREVER!!
What do birds and elephant have in common….
The scarf used belong to my sister who passed away 9 years ago..she had 2 sons and a daughter. The daughter will be getting married in June 2022. She did not want anything store bought as a wedding present, since I had my sister's scarf I thought to have it used for the 3 birds, one for each of her kids… And an elephant….took photos of the scarf before I sent it to you…. That way they know it's from their mom.. actually my niece has the same scarf but different color… I was going to give scarf away…good thing I asked her if it was her mom's…
One of her sons had a daughter last year and she gets the elephant…. I hope they will like it..
And yes I loved the handmade keepsake..The birds and the elephant were all made wonderfully. I can feel the care and love that went into making them… thank you
so much…
Peace and love…
Companions
The elephant created for me by clothes sent in by me is just absolutely beautiful! It is a companion to the Memory Bear that was given to me from a close friend 9 years ago and sits perfectly in his lap! Instructions were followed very carefully, craftmanship is wonderful, and quality is top notch. I am very thankful for The Patchwork Bear and the comfort they have provided.
Patchwork Bear did a wonderful job on creating an elephant from my twin brother's clothes for our nephew, exactly as I requested. It is a great comfort to me that my nephew will have this reminder of his uncle.
I was nervous to send my 2 sons baby clothes in, shipping was fast, communication was great and the end result left me speechless. It is better than I ever imagined and an amazing way to cherish the memories of when my boys were babies.
So this photo doesn't show the product but it 100% shows the emotion my family felt when they received these beautiful elephants made from my grandfathers clothing. My mom and her siblings lost their father in January 2020 and all of us cousins wanted a way for them to cherish and hold onto their father forever. Patchwork bear nailed it with these elephants as elephants have a special spot for our grandpa! Thank you! We will recommend patchwork to all our family and friends!!!! This company is so personable and sincerely care about their customers.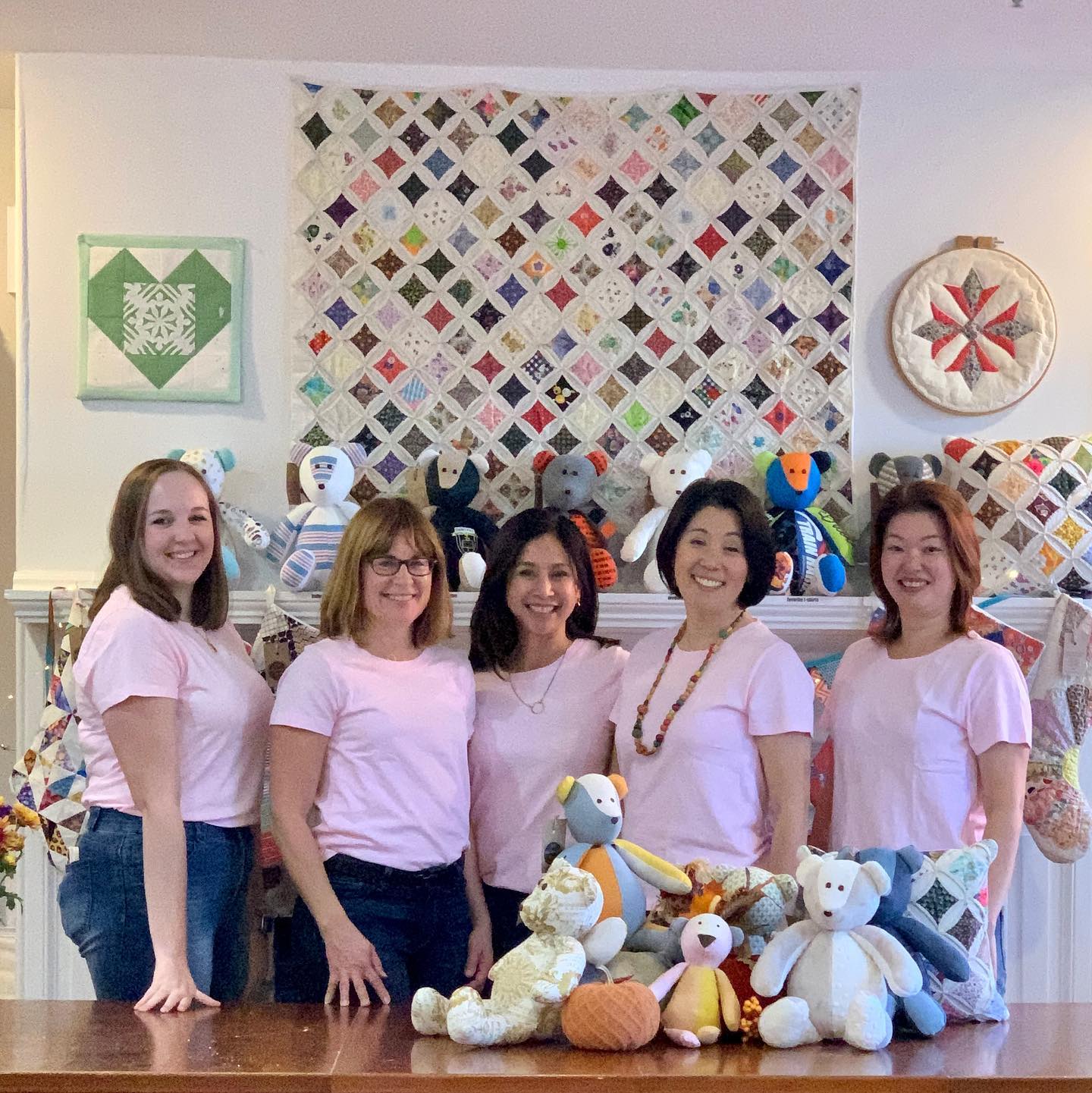 why us?
Why choose The Patchwork Bear to make your custom keepsake?
The Patchwork Bear has been trusted to turn your favorite clothes into keepsakes since 2005 and understand your clothing is irreplaceable- full of stains and memories. We take the utmost care of your clothes in every step of the process from receiving the clothes, to design, to creation and delivery. 
We know it is difficult to send your clothes away to be cut up, but you can trust that our talented design team will transform them into a keepsake you will love. We get to know you through the clothes you send and our goal is to create custom products from clothing that will bring back happy memories. 
award winning
One of Oprahs's Favorite Things
If OPRAH trusts us, you can too! In 2017, we were thrilled to have our Memory Bear chosen as one of Oprah's Favorite Things. 
Our products have received numerous awards and recognition, notably the Creative Child Product of the Year and Oprah's Favorite Things List.