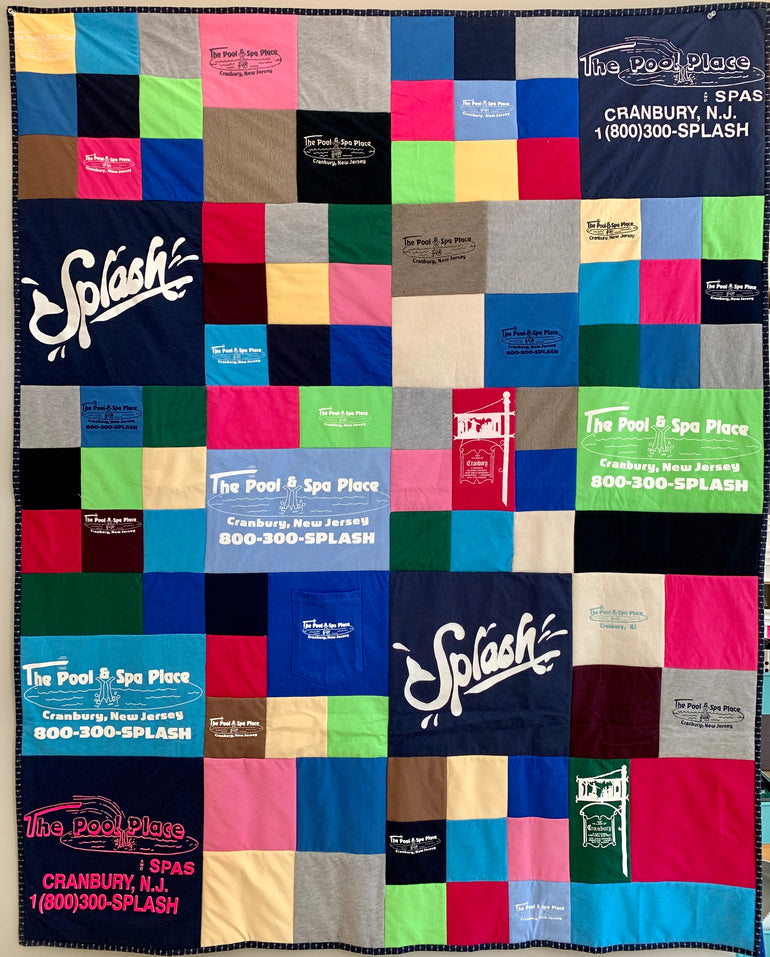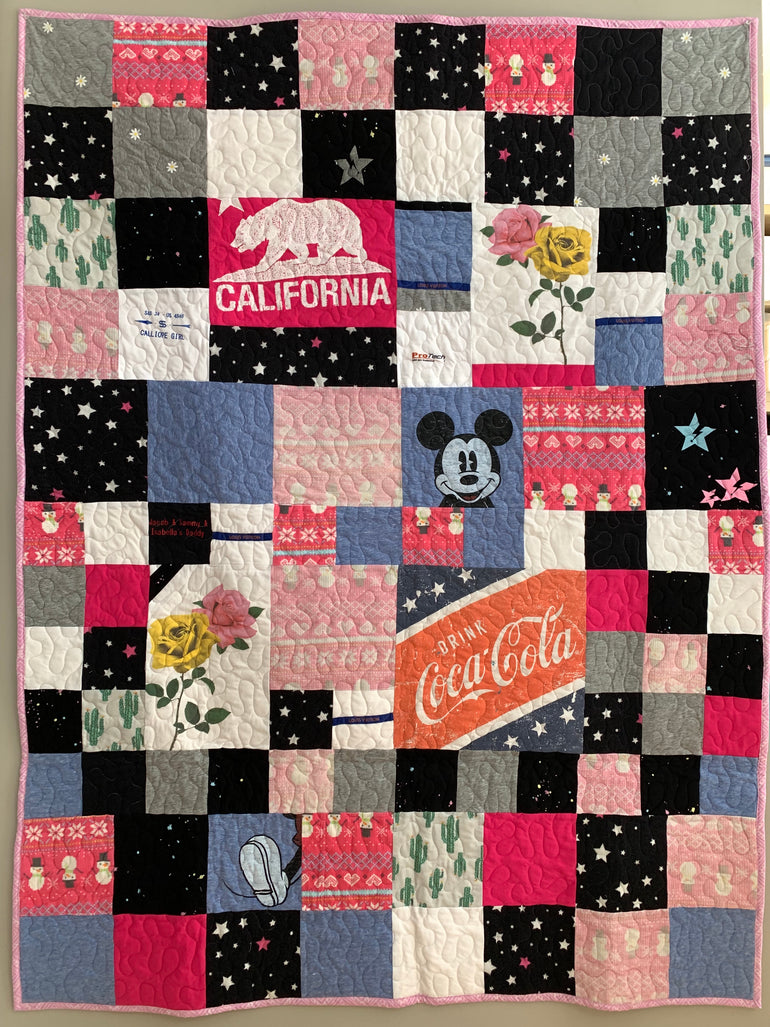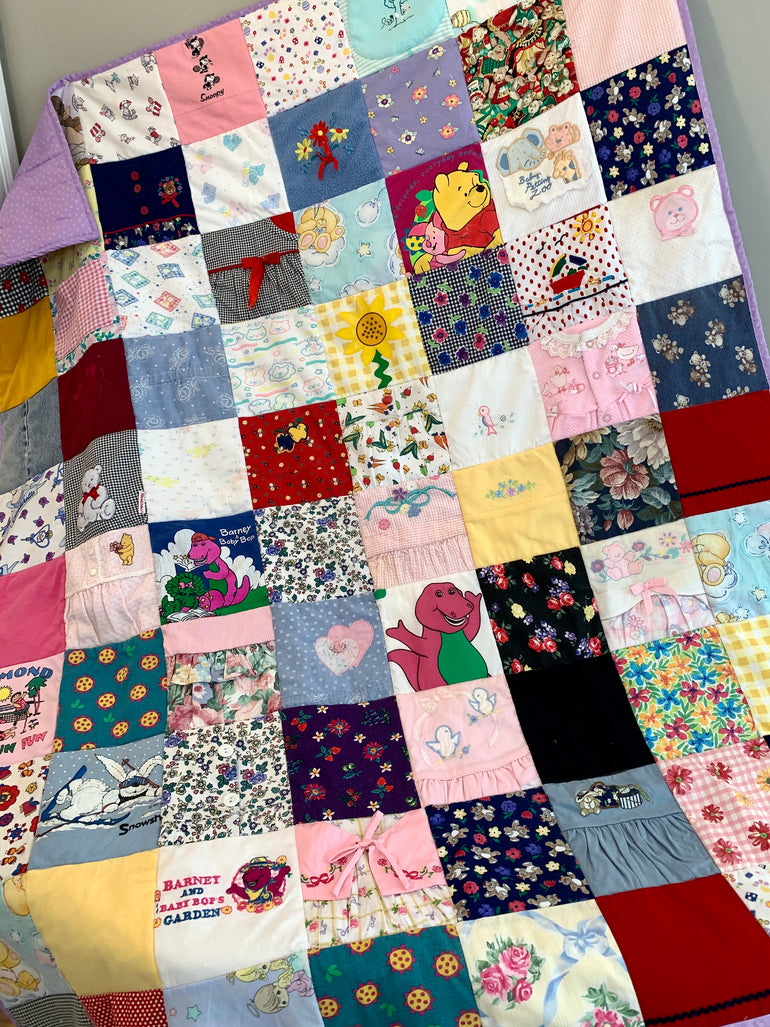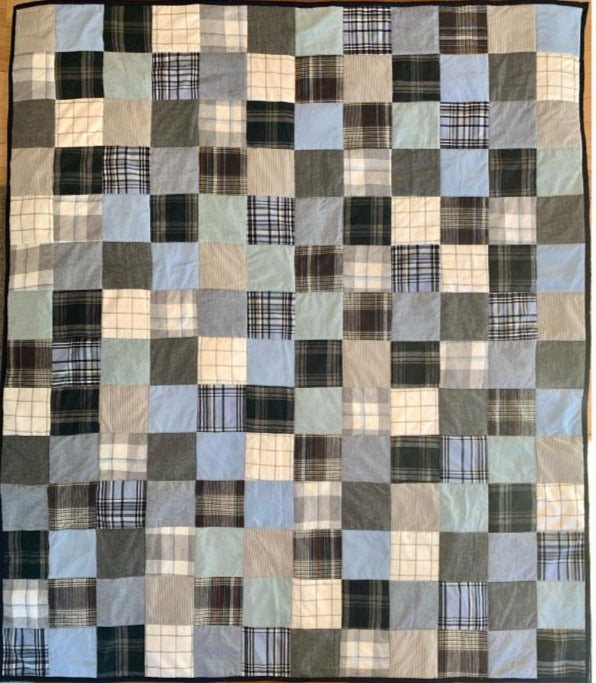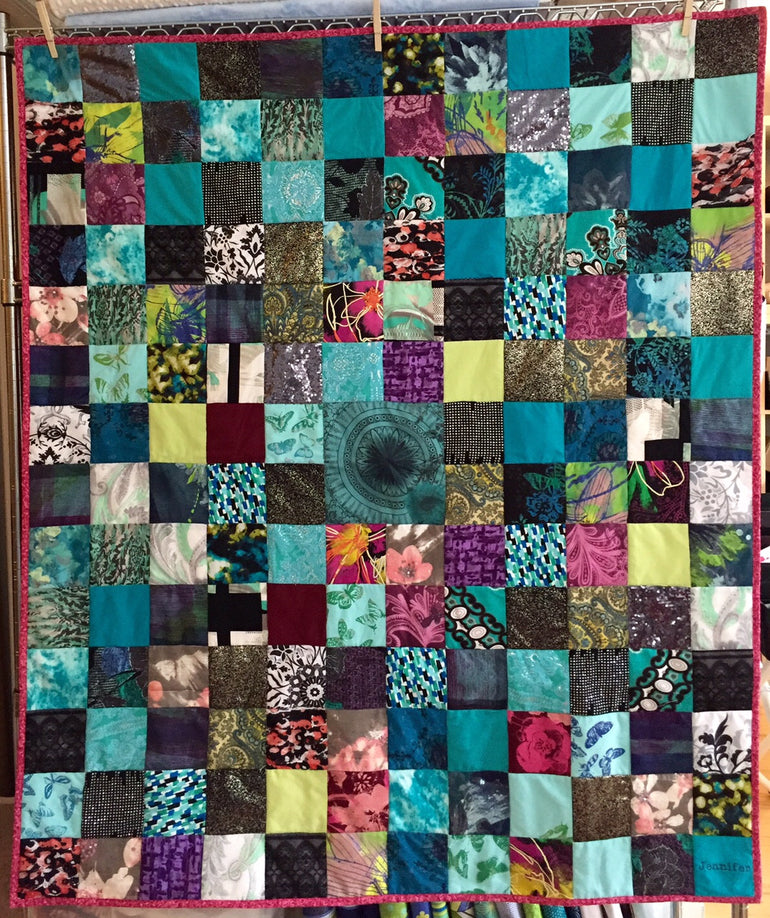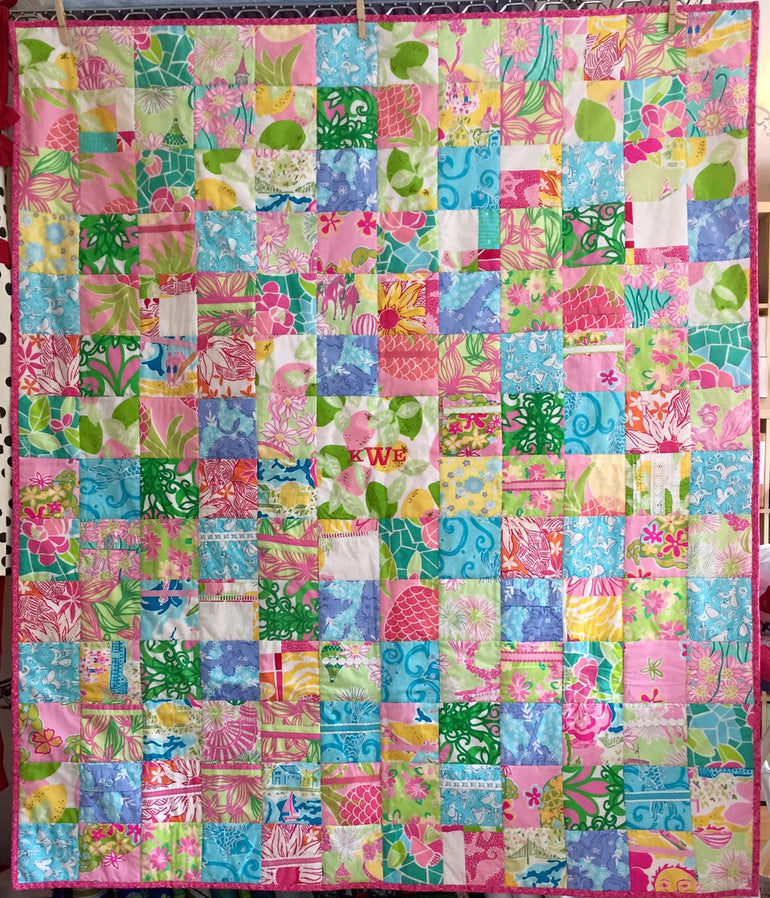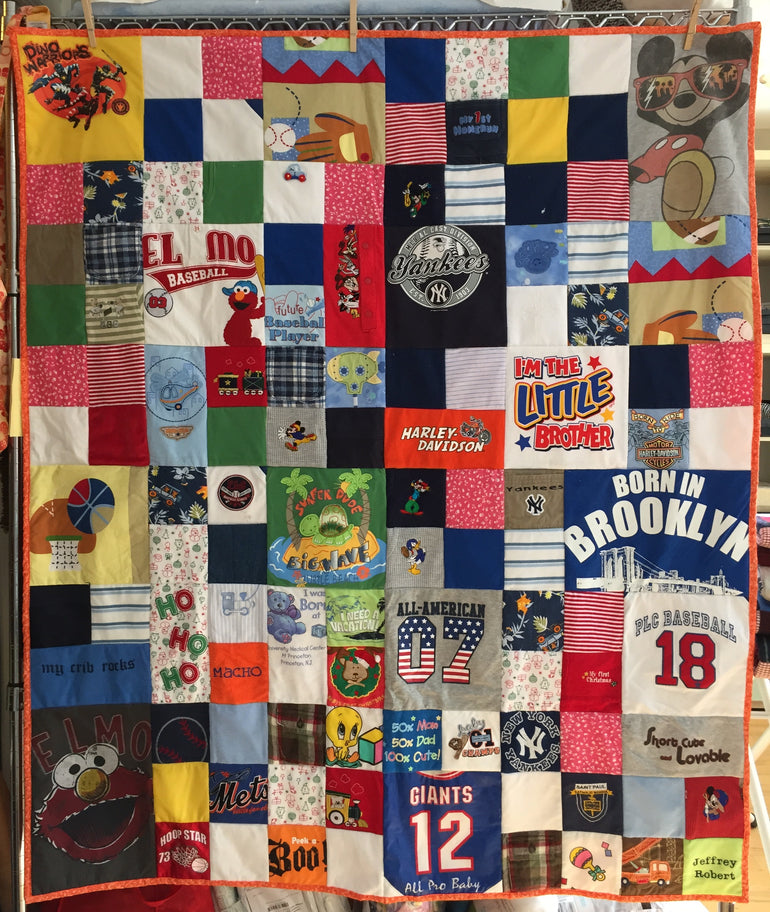 Original Memory Clothes Quilt, 48x60
Transform your favorite clothes/blankets into an instant heirloom quilt! Clothes are hand-cut into 6-inch squares and pieced together to form an original patchwork quilt. Measures approximately 48x60 inches square. 100% cotton batting; reverses to 100% cotton fabric.

We can incorporate larger squares in the design (6x6, 6x12, 12x12, etc) if you have an item with a larger design. Please pin notes on clothes with any special instructions. Since each quilt is made to order, your design requests are welcome.
** This custom, handmade item takes approx. 8-12 weeks for delivery (longer during holiday season Oct-Dec) After you place your order, we will contact you with shipping information and tips on choosing clothes for your quilt.
It's easy:
After you place your order, we email shipping instructions, tips on choosing clothes and a printable order form.
Send your clothes with the order form to us
Approximately 8-12 weeks after we receive your clothes, you receive your custom memory quilt made entirely from your clothes!
Other good stuff:
We encourage your input in the design. You can pin notes on clothes with special requests like: use this entire design, use this logo, use as much of this as possible, etc.
You can choose the color for the back of your quilt on the order form
Add personalization on your quilt in our

 

ADD-ON

 

collection
In general, we cut the clothes down to 4-inch blocks for baby clothes; 6-inch for child/adult clothes. We can create larger blocks upon request to include graphics or logos on the clothes.
Any questions? CONTACT US
Step 1: Order your keepsake product
Step 2: We email shipping instructions and an order form
After your order is processed, we EMAIL shipping instructions & a printable order form.
(Gift Kits will ship in 2-3 days and include an order form, shipping instructions & mailing bag)
Step 3: Send your clothes to the patchwork bear
All packages sent to us are signed for upon receipt and kept in a safe, indoor location. We know your clothes are irreplaceable and we take great care throughout the process
Step 4: receive your keepsake in just a few weeks. Instant heirloom!
Please allow 4-6 weeks for memory bears & animals; 8-12 weeks for quilts & bags. May take longer during holidays (Oct-Dec). 
CONTACT US if you have a specific deadline or any questions. We can't wait to help you save your memories!
---
2 memory quilts
I received the 2 memory quilts made from my husbands dress shirts. They came out terrific. Outstanding quality.
I received them today the day before his 3rd anniversary of his passing.
Joanne O
A gorgeous keepsake to treasure
I recently sent some of my late Mom's clothes to have made into a keepsake blanket. I had previously had a keepsake bear made a few years back with some of my late nephew's clothes. They did an amazing job then so I knew just who to go to for the blanket. The attention to detail, creativity and amazing execution is all that I expected and more. I recommend you all to everyone I know. I will treasure these keepsakes forever and will pass them down in future.
Grandma
I had a blanket made for my daughter from her grandma's clothes. When she opened the box she was filled with so many emotions. The blanket was beautifully made and I couldn't believe how awesome your team made the design so perfect. I have ordered blankets and bears in the passed and can't wait to have a grandchild so I can make a bear or blanket for them. Thank you so much!
Amazing
This quilt was everything I could've hoped for and more. I can't say enough how grateful I am to the Patchwork Bear team for turning my mom's memories into something I can hold onto for a lifetime. Thank you so much!
Love our memory quilt
The quilt is awesome! It turned out amazing and my son loves it. They included all the front and backs of all the shirts that i wanted and it looks amazing.
Memory Quilt
Jen and her team did a beautiful job on a quilt I had made from my husband's clothes( he passed away Jan 2020) and this quilt her team made helps keep his memory alive. Jen texted me personally to have me look over the pieces of clothes before she made the quilt to make sure it was right, and it was perfect.
I would strongly recommend Jen and her team to anyone's family or friends. Love it !!
Original Memory Clothes Quilt, 48x60
Very well made
Very well made. They made my grandmas clothes look like really expensive fabric. I can see my grandma in each square. I plan on hanging this quilt in my kids nursery one day:)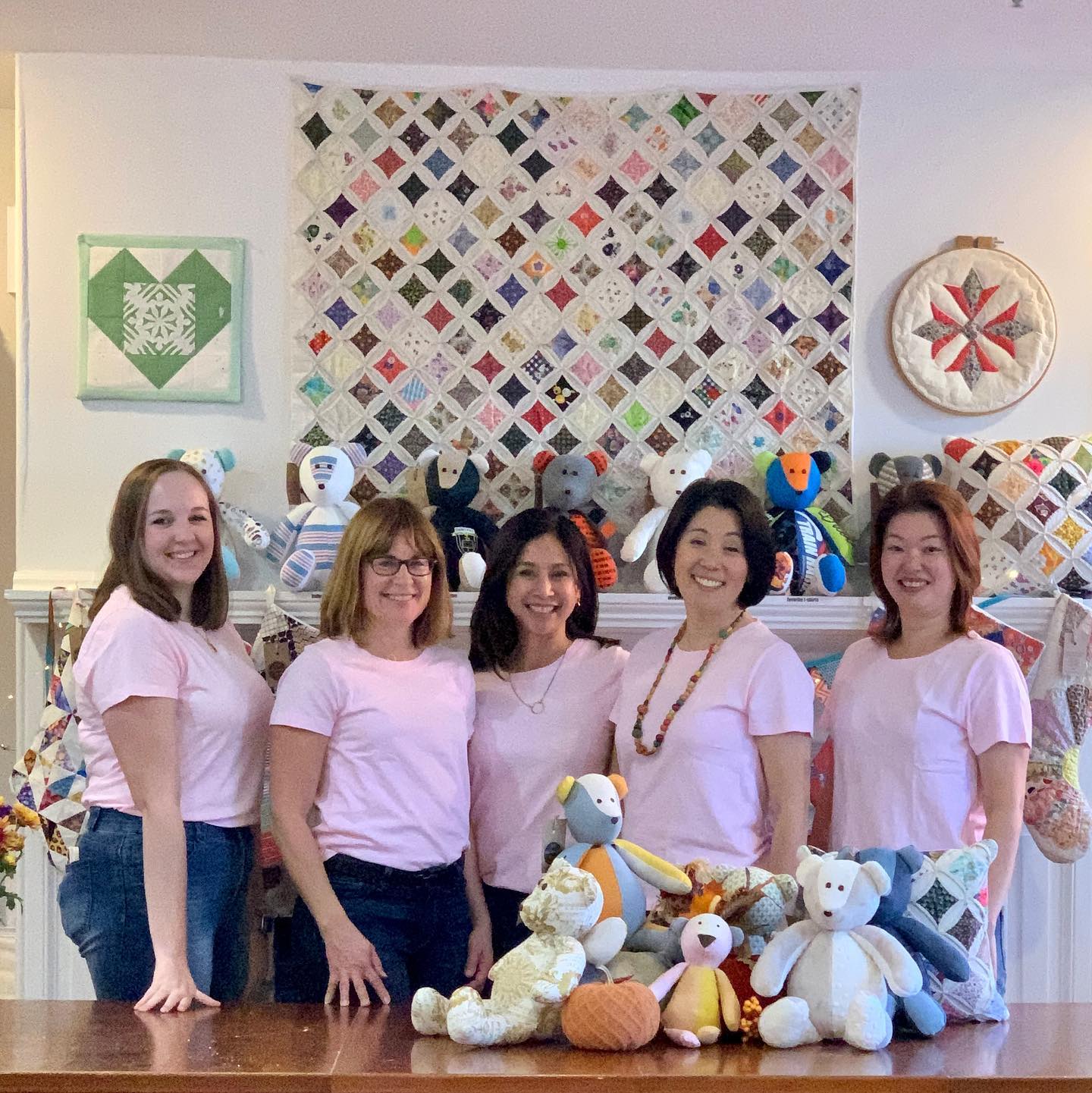 why us?
Why choose The Patchwork Bear to make your custom keepsake?
The Patchwork Bear has been trusted to turn your favorite clothes into keepsakes since 2005 and understand your clothing is irreplaceable- full of stains and memories. We take the utmost care of your clothes in every step of the process from receiving the clothes, to design, to creation and delivery. 
We know it is difficult to send your clothes away to be cut up, but you can trust that our talented design team will transform them into a keepsake you will love. We get to know you through the clothes you send and our goal is to create custom products from clothing that will bring back happy memories. 
award winning
One of Oprahs's Favorite Things
If OPRAH trusts us, you can too! In 2017, we were thrilled to have our Memory Bear chosen as one of Oprah's Favorite Things. 
Our products have received numerous awards and recognition, notably the Creative Child Product of the Year and Oprah's Favorite Things List.