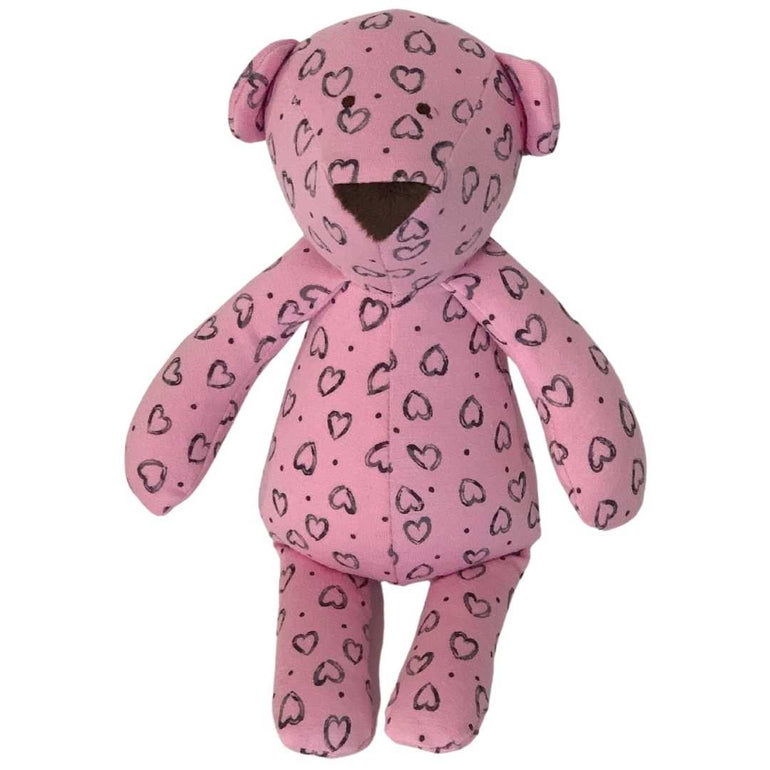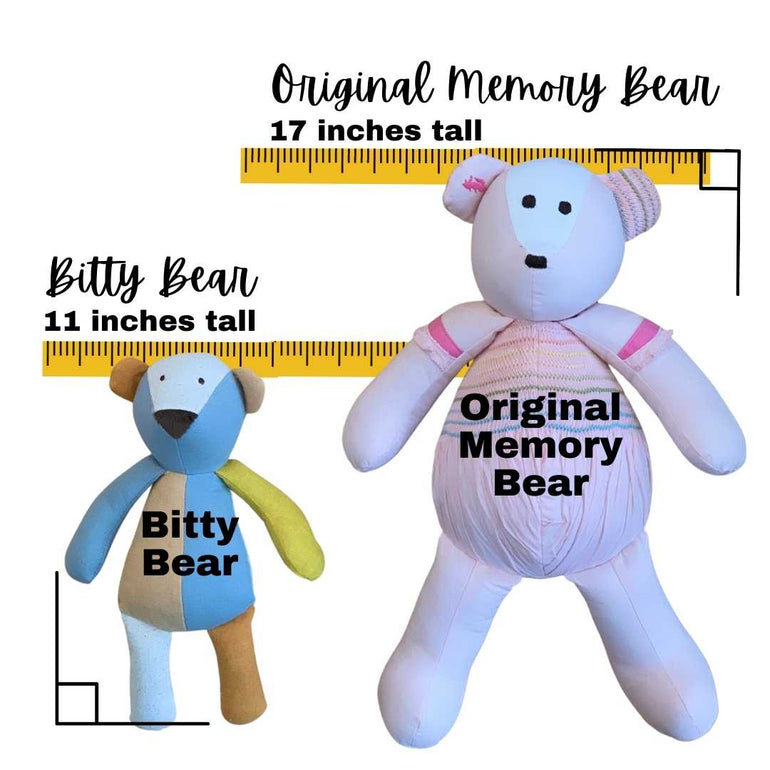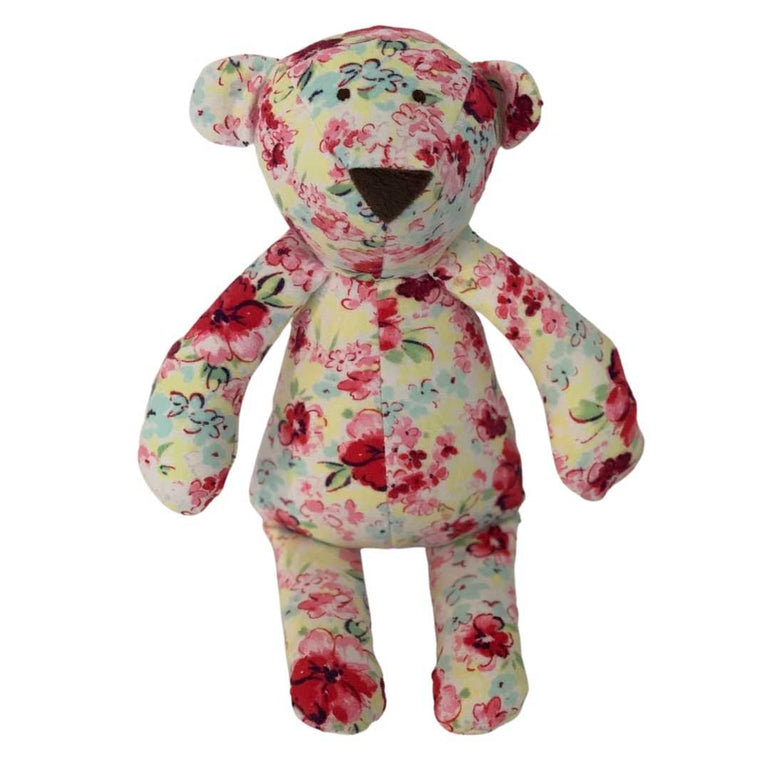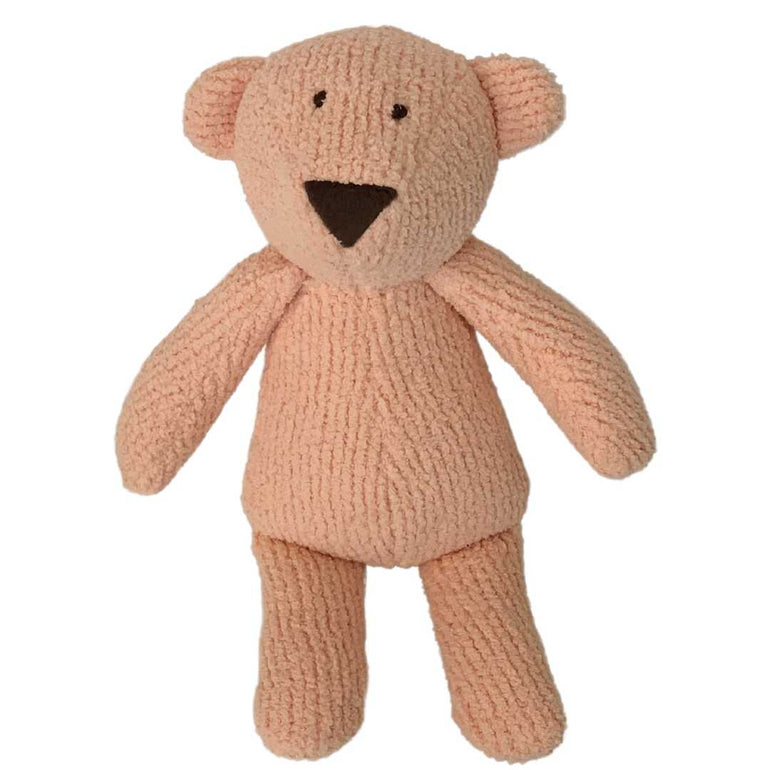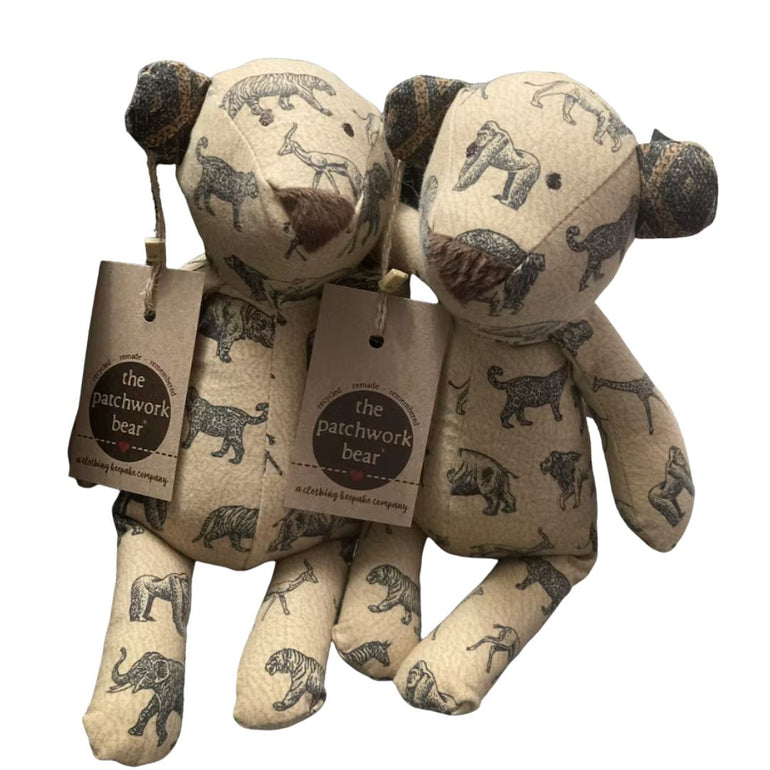 It's a smaller version of our much loved Patchwork Memory Bear! 
Measuring just 11 inches (vs 17 inches for the Original Memory Bear) this cutie has a soft minky nose, embroidered eyes and perfectly sized to tote around. 
Due to the smaller size of this bear, we do not recommend using clothes with graphics since they will be cut too small and be unreadable. Personalization or add-ons not available on this item.
We use only one article of clothing for your bitty bear but can incorporate more than one for orders of 2 or more bears.
If you have clothes with graphics like t-shirts, please order the ORIGINAL MEMORY BEAR
Note: We reached our production limit for holiday delivery. You are welcome to place your order for a memory bear but it will likely not be complete in time for the holidays (will delivery in January 2024). 
**If you would like to give a Memory Bear as a gift, please order our Memory Bear Gift Kit. (It's the same as this memory bear, just packaged for gift giving!)
Step 1: Order your keepsake product
Step 2: We email shipping instructions and an order form
After your order is processed, we EMAIL shipping instructions & a printable order form.
(Gift Kits will ship in 2-3 days and include an order form, shipping instructions & mailing bag)
Step 3: Send your clothes to the patchwork bear
All packages sent to us are signed for upon receipt and kept in a safe, indoor location. We know your clothes are irreplaceable and we take great care throughout the process
Step 4: receive your keepsake in just a few weeks. Instant heirloom!
Please allow 4-6 weeks for memory bears & animals; 8-12 weeks for quilts & bags. May take longer during holidays (Oct-Dec). 
CONTACT US if you have a specific deadline or any questions. We can't wait to help you save your memories!
---
EXCELLENT SERVICE
I was very PLEASED with my bear that you made, when I wrote checking about it a couple of times, you always got back to me. Thank You so much!!!
Bitty Bear
This company does an outstanding job of capturing memories of a loved one. The quality of work is exceptional. We are absolutely amazed by how beautiful our bears turned out. They will be cherished forever.
Amazing company!!
This company was exceptional to work with! I ordered nine bitty bears and bunnies, nine hearts, and eight birds in total. I pinned detailed notes on certain clothing items. Each item was crafted with intentionality. I appreciate the creativity that was put in as well. Team member, Meghan personally reached out to me to ensure items were crafted as requested. Leftover clothes were nicely folded and placed in a sealed bag with the package containing the bears, bunnies, birds, and hearts. I will upload pictures of bitty bears and bunnies once family members open their gifts at Christmas. These keepsakes are a great way for my family members and I to feel close to our Mother who passed away nearly 6 months ago. Losing our Mother is devastating. Supporting a company who cares about people and memories helps through the grieving process. If you are looking for a way to have a loved ones clothing turned into a memorable keepsake, this is the company to support.
Thank you
I absolutely loved the bears. I made a mistake to order from another company, their job was terrible, I reached out to Jennifer from the Patchwork and told her the terrible work the other company did, she and her team took a very challenging job to make my bears look amazing. I had ordered from the patchwork bear before and their work is impeccable. I regret it so much not ordering from them the second time. I highly recommend the Patchwork bear
The bears came absolutely beautiful, I can't thank them enough for saving the pieces of my loved one. ❤️
Thank you..
Thank you
Cherished memories!
I have 8 bitty bears made with my deceased loved ones clothes and everyone absolutely loves them. They are beautifully made and bring warm memories with every hug!
I love how my itty bitty bear turned out. My Grand daughter loves it. You did an excellent job. Will be ordering something else soon
Amazing work !
This was such an easy process and worth every penny ! We ordered 4 bears for our kids who lost their uncle (my brother) and we are so unbelievably happy with how the bears turned out. THANK YOU !!!
They did it again!
This will be my 3rd bear from you and you did not disappoint again. They are so cute and a great keepsake to remember my mom with her summer bathrobe that we remember her wearing. My sister and I now have something to remember her by. Thank you!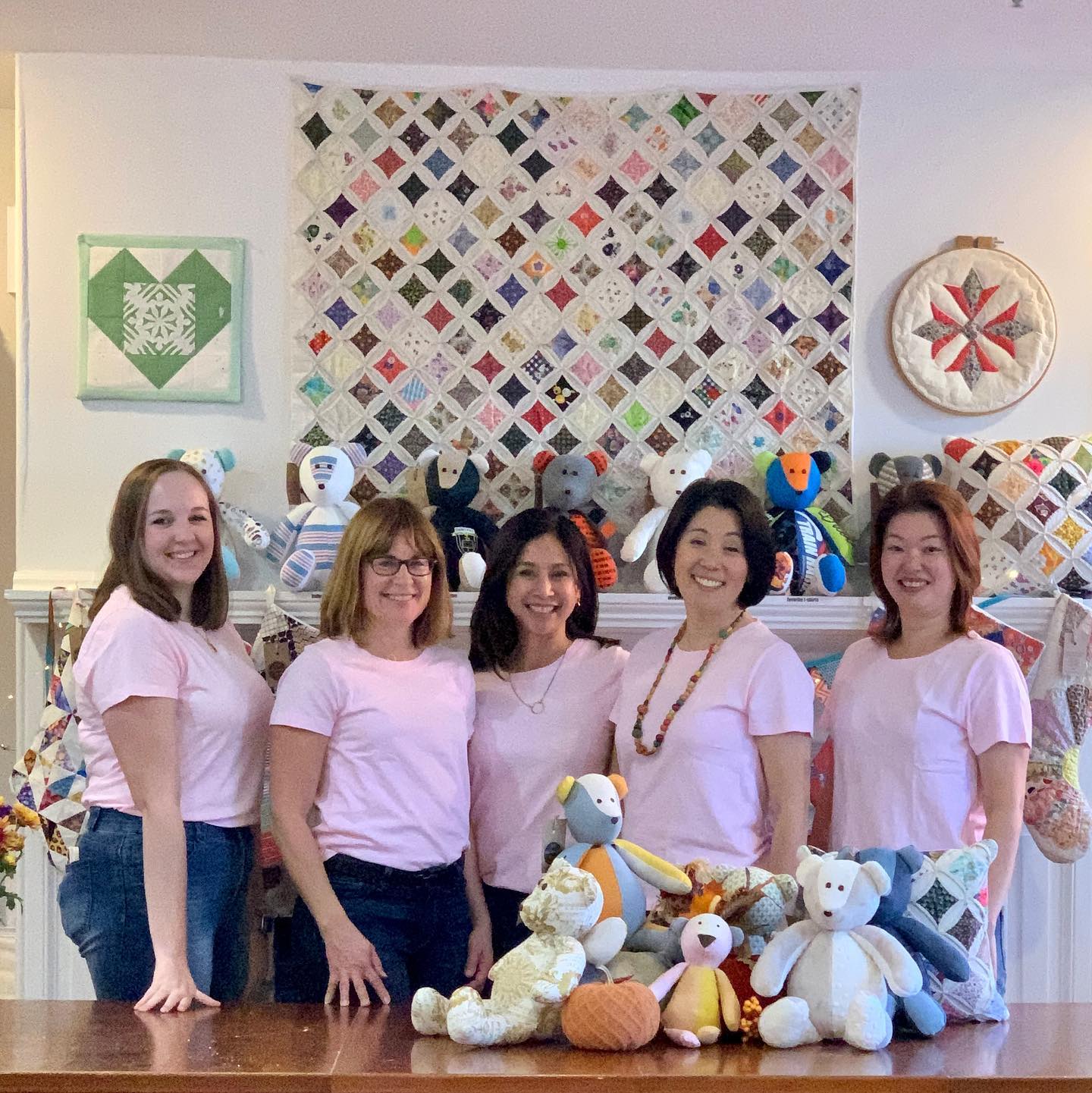 why us?
Why choose The Patchwork Bear to make your custom keepsake?
The Patchwork Bear has been trusted to turn your favorite clothes into keepsakes since 2005 and understand your clothing is irreplaceable- full of stains and memories. We take the utmost care of your clothes in every step of the process from receiving the clothes, to design, to creation and delivery. 
We know it is difficult to send your clothes away to be cut up, but you can trust that our talented design team will transform them into a keepsake you will love. We get to know you through the clothes you send and our goal is to create custom products from clothing that will bring back happy memories. 
award winning
One of Oprahs's Favorite Things
If OPRAH trusts us, you can too! In 2017, we were thrilled to have our Memory Bear chosen as one of Oprah's Favorite Things. 
Our products have received numerous awards and recognition, notably the Creative Child Product of the Year and Oprah's Favorite Things List.