Bereavement Bear with poem in heart
This Bereavement Bear is made entirely from your loved one's clothes and includes this special poem in a red heart on the front of the bear's chest that says, 

"These are the clothes I used to wear. 
When you hold me, know I am there."
The poem will be printed in white letters inside a red heart placed on the bear's chest.
Your finished bereavement bear measures a perfectly huggable 17 inches tall and features embroidered eyes and nose for added charm and safety.
HOW IT WORKS
Place your order here.
We email shipping instructions and a printable order form 
Send us: 1-2 adult (or 4-8 child) size clothes with the order form
In about 6-8 weeks, you'll receive a memory bear made entirely from the clothes you sent. 

NOTE: We reached our production limit for 2023 holiday delivery. You are welcome to place your order for a memory bear but it will likely not be complete in time for the holidays (will delivery in January 2024) - YOU CAN STILL GIVE a MEMORY BEAR GIFT KIT (ships in 1-2 business days)

 
WHY CHOOSE US
We are the ORIGINAL memory bear company, started in 2003 with the goal of saving your memories by upcyling favorite clothes. You can trust our experience, talent and heart when it comes to saving your memories. 
Your clothes are received and signed for by a real person, not left outside by shipping carriers with the threat of weather damage or theft
We have a professional sewing studio with a small, talented team of designers and makers who share the joy of creating keepsakes for you
We encourage your design input and requests and love to hear stories about the memories made in the clothes you send.
We are one of Oprah's Favorite Things and Creative Child Magazine's Product of the Year
This bear DOES NOT include personalization. Please order HERE if you would like the feet personalized (or you can ADD-ON custom personalization on the bear's chest and/or feet).
Step 1: Order your keepsake product
Step 2: We email shipping instructions and an order form
After your order is processed, we EMAIL shipping instructions & a printable order form.
(Gift Kits will ship in 2-3 days and include an order form, shipping instructions & mailing bag)
Step 3: Send your clothes to the patchwork bear
All packages sent to us are signed for upon receipt and kept in a safe, indoor location. We know your clothes are irreplaceable and we take great care throughout the process
Step 4: receive your keepsake in just a few weeks. Instant heirloom!
Please allow 4-6 weeks for memory bears & animals; 8-12 weeks for quilts & bags. May take longer during holidays (Oct-Dec). 
CONTACT US if you have a specific deadline or any questions. We can't wait to help you save your memories!
---
Loved it
Sent to my daughter as a keepsake of her father. She cried for a while upon receiving it. Loves it.
Bear w/Poem
Love, love, love the bear. Absolutely beautiful. Thank-you so much. My daughter is going to love it. I highly recommend this company. Outstanding work.
Bereavement Bear
I will always have a part of my mother with me all the time. They really do a great job and put a lot of hard work in putting the bear together thanks so much.
Three Bereavement Bears
The three bereavement bears were absolutely perfect and I have shown everyone your beautiful work! The sport shirt logos were placed in perfect places on the bears and the fabric was designed so artistically. I am comforted every time I look at a bear and the shirts my husband once wore. Thank you for your tender care an thoughtfulness in making these treasured keepsakes!
Sincerely,
Paula
Treasured Bear
Just Received Our Patchwork Bears and I Can't Put Into Words How Amazing They Are. Holding It Brought Tears To My Eyes Just Knowing I Was Holding Something That Was Apart of My Mom. Beautifully Made. Put Together With Such Care and Well Made. Can't Thank You Enough Patchwork Bear. I Recommend This Company If You're Looking For Something Really Special❤️
Incredible
They did a fabulous job! My friends parents passed away and she is having her first baby so I sent a dress and T-shirt from her mom and dad. The bear is beautiful and brought me to tears instantly once the box was opened. I cannot wait to give her this special sentimental gift on the day of her shower. Thank you so much for creating this beautiful bear 🤍
Remembering Dad
These bears are perfect! Each is made from 2 of my father's shirts. The shirts were selected from items he wore with me, my sister, my niece and my two great nieces.what a great way to treasure the memories as we also plan to put pictures with each bear.
Perfect Memorial bear
This is a beautiful gift for our mother in memory of our teenage sister that passed away. I can't wait to give it to our mom on Mother's Day. Thank you for listening to my request and putting such a perfect bear together for me.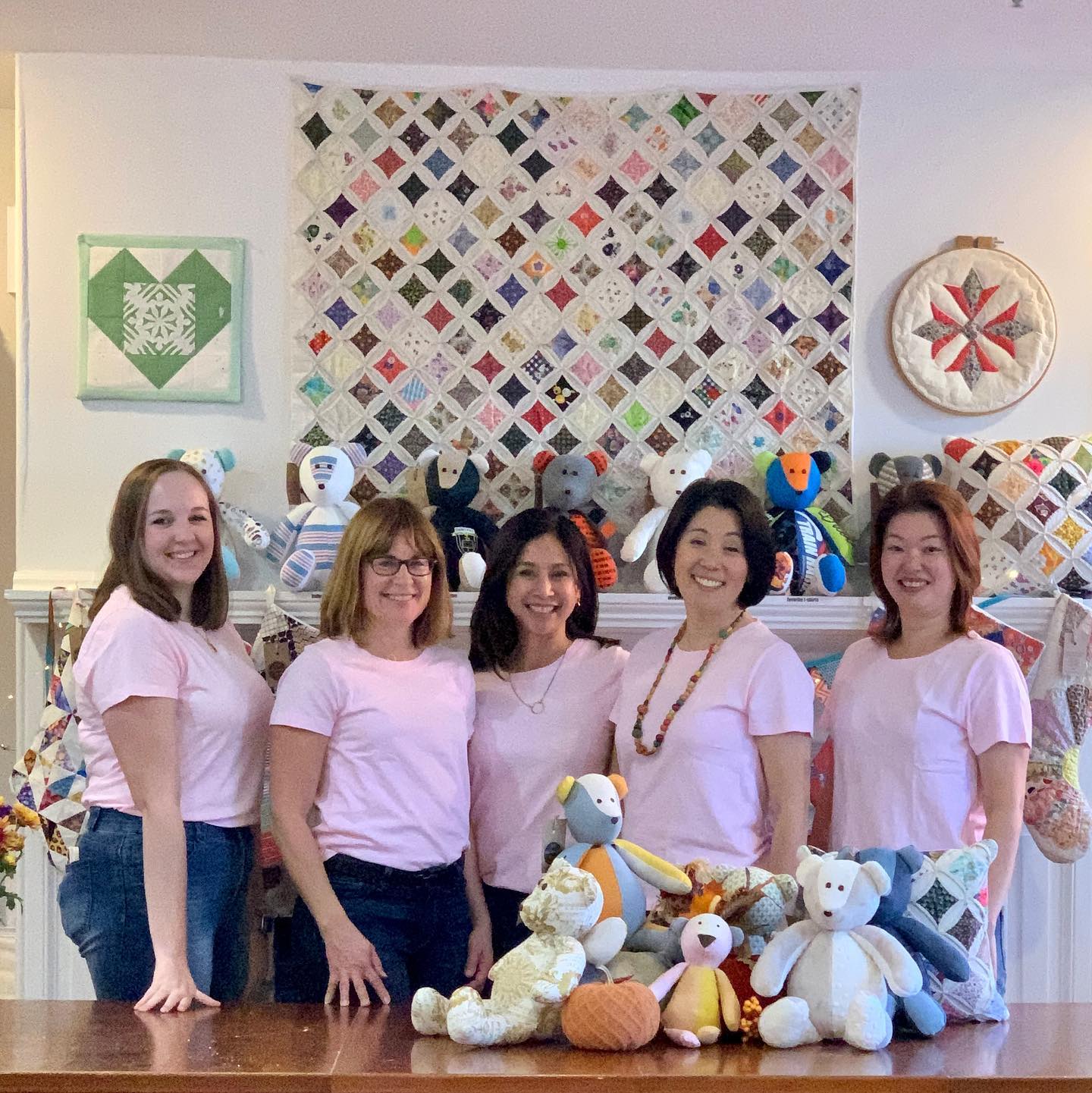 why us?
Why choose The Patchwork Bear to make your custom keepsake?
The Patchwork Bear has been trusted to turn your favorite clothes into keepsakes since 2005 and understand your clothing is irreplaceable- full of stains and memories. We take the utmost care of your clothes in every step of the process from receiving the clothes, to design, to creation and delivery. 
We know it is difficult to send your clothes away to be cut up, but you can trust that our talented design team will transform them into a keepsake you will love. We get to know you through the clothes you send and our goal is to create custom products from clothing that will bring back happy memories. 
award winning
One of Oprahs's Favorite Things
If OPRAH trusts us, you can too! In 2017, we were thrilled to have our Memory Bear chosen as one of Oprah's Favorite Things. 
Our products have received numerous awards and recognition, notably the Creative Child Product of the Year and Oprah's Favorite Things List.