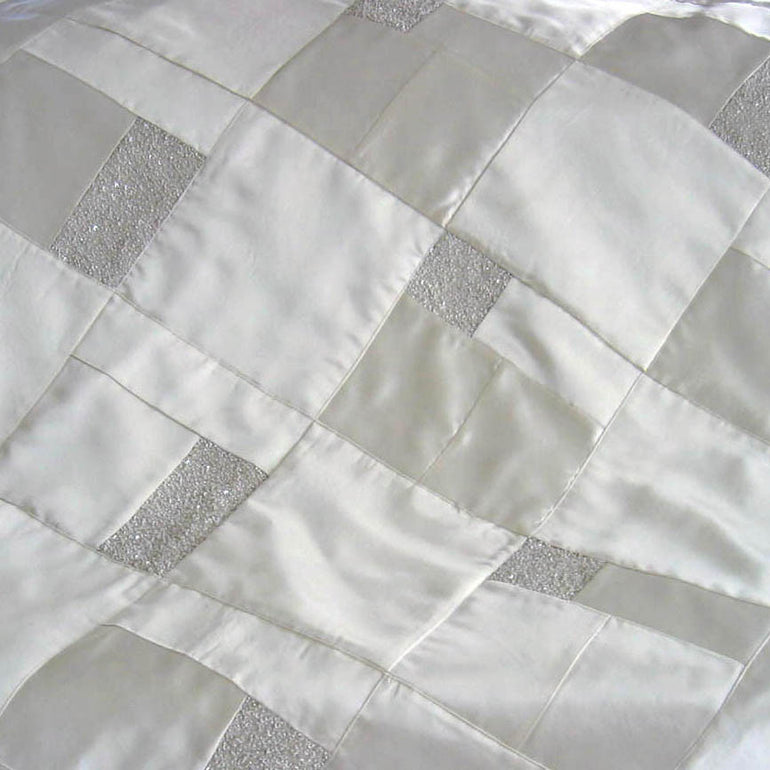 Wedding Dress Quilt, Extra Large 60x60
We are currently SOLD OUT of Extra Large Wedding Quilts for 2023.
CLICK HERE if you would like to be notified if additional openings become available. We will accept new orders on a first come, first serve basis so it's recommended to add your name to the wait list.
- - - - - - - - - - - - - - - - - - - - - - - - - -
This is the largest wedding quilt we create- 60x60 inches square. Please note if your wedding dress does not have enough material to create this size, we can use coordinating fabric or another article of clothing you provide. 
Turn your wedding dress into a beautiful handmade quilt! Your dress will be pieced with parts of your dress to create a keepsake quilt that can be cherished for years to come. Don't leave your dress in a box- display it in a quilt! Reverses to 100% white cotton fabric.
Hand-cut pieces of your dress will be pieced together to highlight the unique qualities of your dress, plus any additional special touches you want to include in the design. The entire quilt top will be made from your dress, unless there is not enough dress material to work with. In this case, we can incorporate coordinating fabric or you can add another article of clothing (groom's suit/tie, bridesmaid dress, mother's wedding dress, etc)
Finished quilt measures approximately 60x60 inches. 
We've made the process as simple as possible!
1. Place your order online.
2. Ship your dress to The Patchwork Bear, 174 Nassau Street #210, Princeton, NJ 08542.
3. We create a design your quilt for you. The design will be based on the basic pattern shown in the photo with a few changes to highlight the unique features of your dress.
4. We start creating your quilt  and 8-12 weeks (longer during summer and holiday seasons) after we receive your dress,  you will receive your custom keepsake Wedding Dress Quilt!
The cost of this quilt includes all labor, materials, design time and custom personalization. The only additional cost is for shipping. Any questions? Email jcura@thepatchworkbear.com if you would like more information.
Step 1: Order your keepsake product
Step 2: We email shipping instructions and an order form
After your order is processed, we EMAIL shipping instructions & a printable order form.
(Gift Kits will ship in 2-3 days and include an order form, shipping instructions & mailing bag)
Step 3: Send your clothes to the patchwork bear
All packages sent to us are signed for upon receipt and kept in a safe, indoor location. We know your clothes are irreplaceable and we take great care throughout the process
Step 4: receive your keepsake in just a few weeks. Instant heirloom!
Please allow 4-6 weeks for memory bears & animals; 8-12 weeks for quilts & bags. May take longer during holidays (Oct-Dec). 
CONTACT US if you have a specific deadline or any questions. We can't wait to help you save your memories!
---
Great Value All Around
My wife's wedding dress had been in our closet for years, moved from house to house as we relocated. Eventually she said that if I wanted to get her a gift, then to have her dress made into something. After a lot of searching, I found The Patchwork Bear. I liked some of the designs that I had seen, so I decided to see what they could do for my wife's dress. They were great with communication throughout the entire process (getting on the wait list, contacting for information, reviewing the design, and shipment). They gave me the choice between a couple of designs they were thinking for the dress and took into account the sketches and pictures I sent them. I am very pleased with the end result. Most importantly, my wife loves the quilt and she drapes it across our bed to show it off. I would definitely recommend this service to anyone wanting to make the leap.
Very happy with the finished wedding dress quilt
I love the beautiful quilt made from my wedding dress! I saved my dress from 54 years ago but we had to downsize. No room for the dress! So now I can treasure my keepsake and memories and enjoy it daily! It is gorgeous and superb workmanship. Thank You!!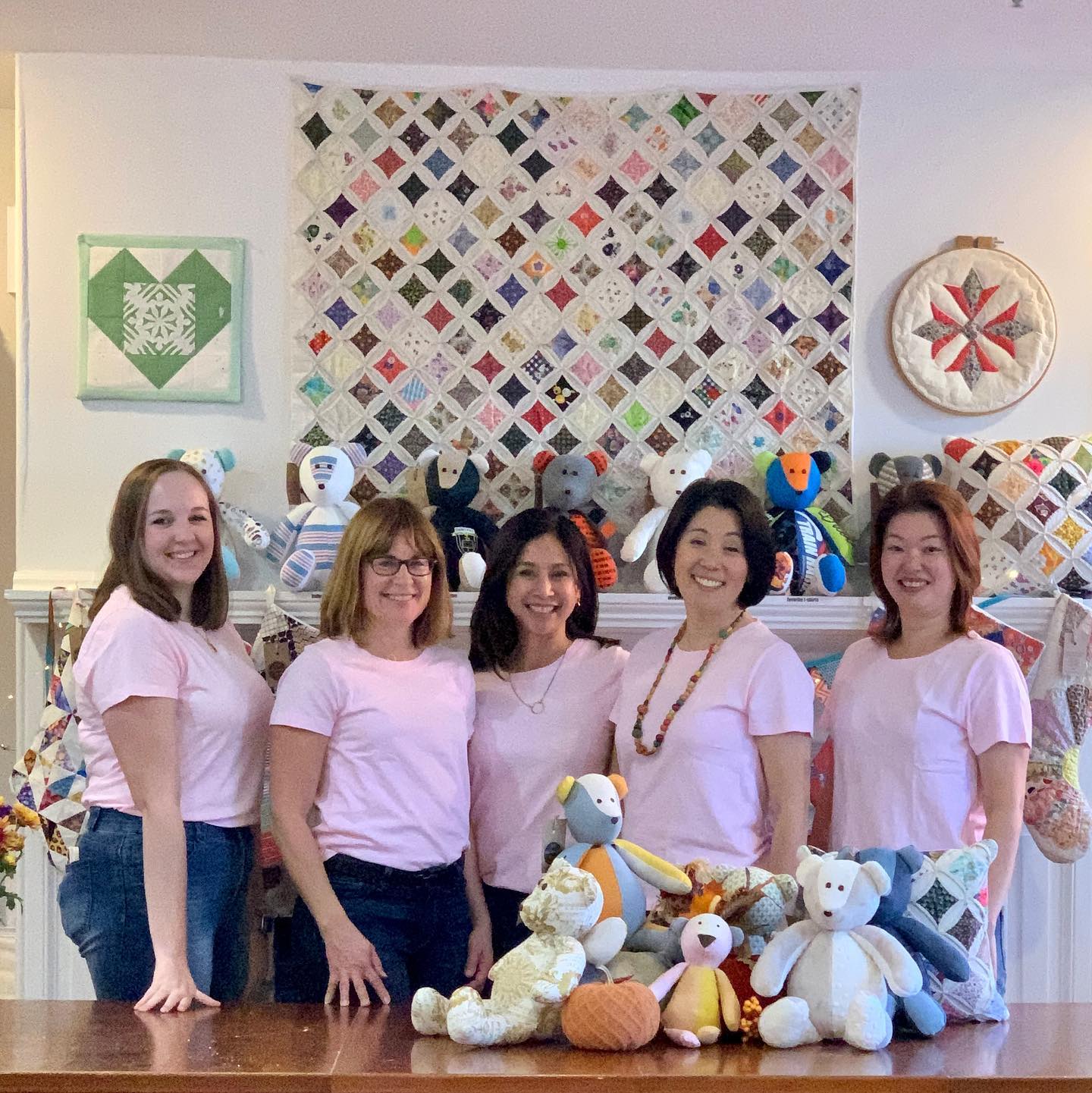 why us?
Why choose The Patchwork Bear to make your custom keepsake?
The Patchwork Bear has been trusted to turn your favorite clothes into keepsakes since 2005 and understand your clothing is irreplaceable- full of stains and memories. We take the utmost care of your clothes in every step of the process from receiving the clothes, to design, to creation and delivery. 
We know it is difficult to send your clothes away to be cut up, but you can trust that our talented design team will transform them into a keepsake you will love. We get to know you through the clothes you send and our goal is to create custom products from clothing that will bring back happy memories. 
award winning
One of Oprahs's Favorite Things
If OPRAH trusts us, you can too! In 2017, we were thrilled to have our Memory Bear chosen as one of Oprah's Favorite Things. 
Our products have received numerous awards and recognition, notably the Creative Child Product of the Year and Oprah's Favorite Things List.