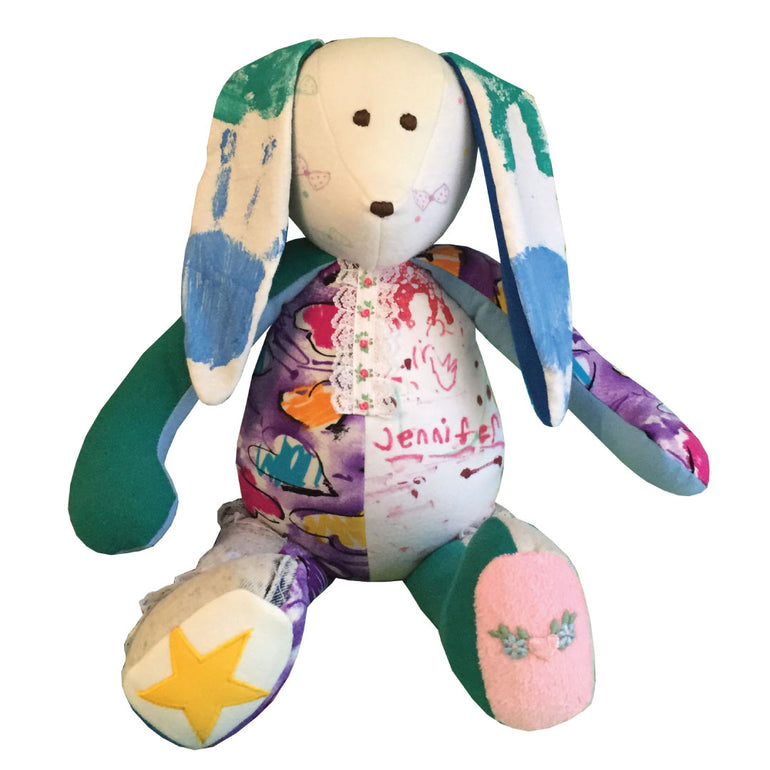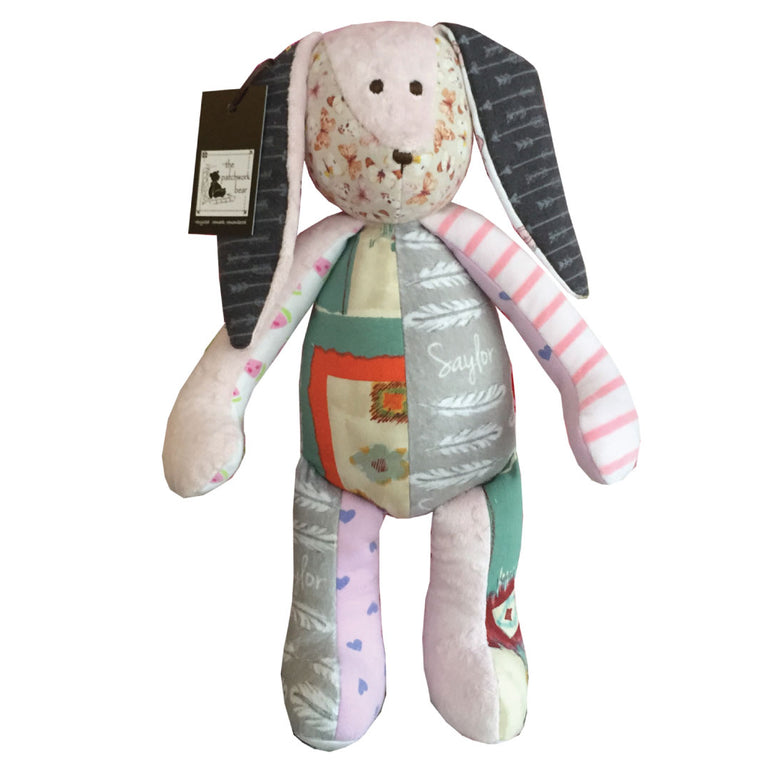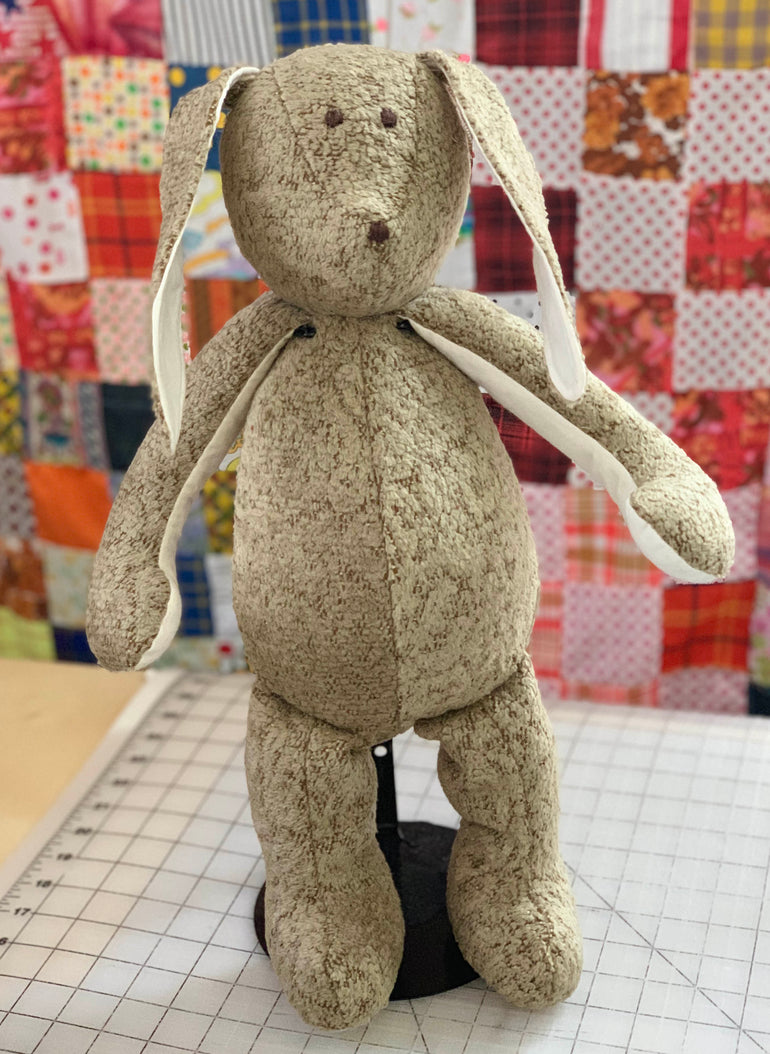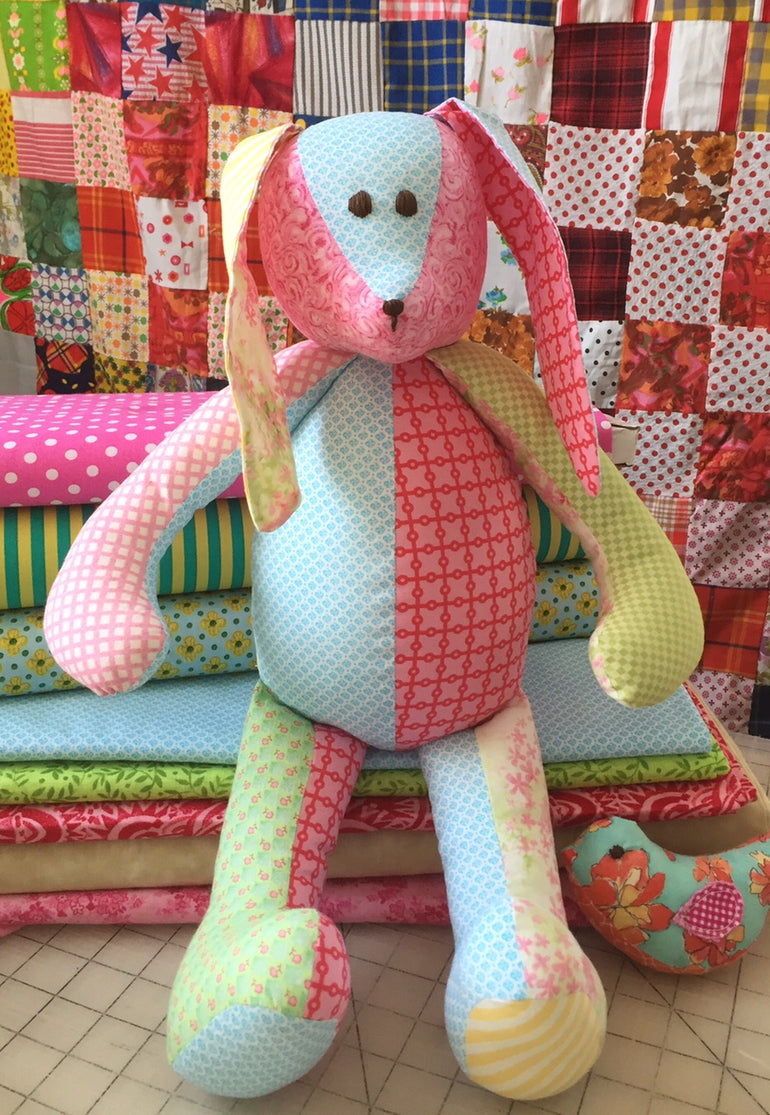 Personalized Memory Bunny
Like the award-winning memory bear, the bunny is made entirely from your clothing. Measures approximately 17 inches tall and includes personalization on one or both feet!
After you place your order, we will EMAIL shipping instructions and a printable order form for you to include with your clothes. We need 6-10 baby/kids clothes or 2-4 adult sized clothes for each bunny. Please allow 3-4 weeks after we receive your clothes to make your keepsake. 
We have been the original keepsake clothing company since 2005. You can trust us with your irreplaceable items to create a one-of-a-kind products. Your clothes are shipped to a safe, indoor facility and our talented designers take great care and love putting these creations together. 
If you would like to give this as a gift, you can purchase a MEMORY BUNNY GIFT KIT here.
Please note: These are keepsakes and not toys. They are not designed or intended for use as a toy for children of any age. While we do not use any buttons, plastic eyes or small parts, they are made entirely from your clothes and therefore have not been tested and do not conform to any safety standards or guidelines in place for children's toys.The Patchwork Bear does not accept any liability for the misuse of these keepsakes. 
Step 1: Order your keepsake product
Step 2: We email shipping instructions and an order form
After your order is processed, we EMAIL shipping instructions & a printable order form.
(Gift Kits will ship in 2-3 days and include an order form, shipping instructions & mailing bag)
Step 3: Send your clothes to the patchwork bear
All packages sent to us are signed for upon receipt and kept in a safe, indoor location. We know your clothes are irreplaceable and we take great care throughout the process
Step 4: receive your keepsake in just a few weeks. Instant heirloom!
Please allow 4-6 weeks for memory bears & animals; 8-12 weeks for quilts & bags. May take longer during holidays (Oct-Dec). 
CONTACT US if you have a specific deadline or any questions. We can't wait to help you save your memories!
---
Love it!
My mom was my best friend & guidance counselor. I got 5 for her grandkids & me. We absolutely love them & they each have a piece of clothing that was important to them. It was the best gift to give them & I highly appreciate the professionalism & care this company gave with my most precious memories.
Memory Bunny
I recently had a memory bunny made to give to my daughter. Communication was quick and easy and I was kept up to date during the entire process; from them receiving her shirt to mailing out the bunny. The Patchwork Bear company was fantastic in using a shirt of my step-mother's (who recently passed from breast cancer) to make a bunny my daughter will cherish forever and keep as a loving reminder of her Granny (who loved her and bunnies) :)
Memory Bunny
What a great experience I had. My wife passed away suddenly last year and the kids and I wanted to do something special with some of her clothes. I searched for several months and decided to go with The Patchwork Bear. I am so happy we did. The process was very simple and smooth from start to finish. I was kept up to date on when they received the clothes I sent in and when the product was finished and shipped out. Shipping was fast and the kids and I love the bunny so much. Just looking at it brings back such treasured memories and I will recommend them to everyone I know. Thank you so much for a great experience!
Such a touching, memorable gift!
This was a great experience and the bunnies were more than I expected. Great craftsmanship to preserve the memory of my wife for our new granddaughter
My dear father died recently at the age of 99. I wanted to have something made from a couple of his shirts, one for me and one for my daughter. I looked online and a lot of the websites made things but they seemed to be geared more towards kids. I found The Patchwork Bear and it was exactly what I was looking for. The items she made had a certain dignity about them. I sent the shirts off and got regular email updates about the status. I received the rabbits a few weeks later and could not have been more pleased. The workmanship was exceptional! To be able to hold something made out of a shirt that my father wore and look at it every day is something my daughter and I will cherish forever.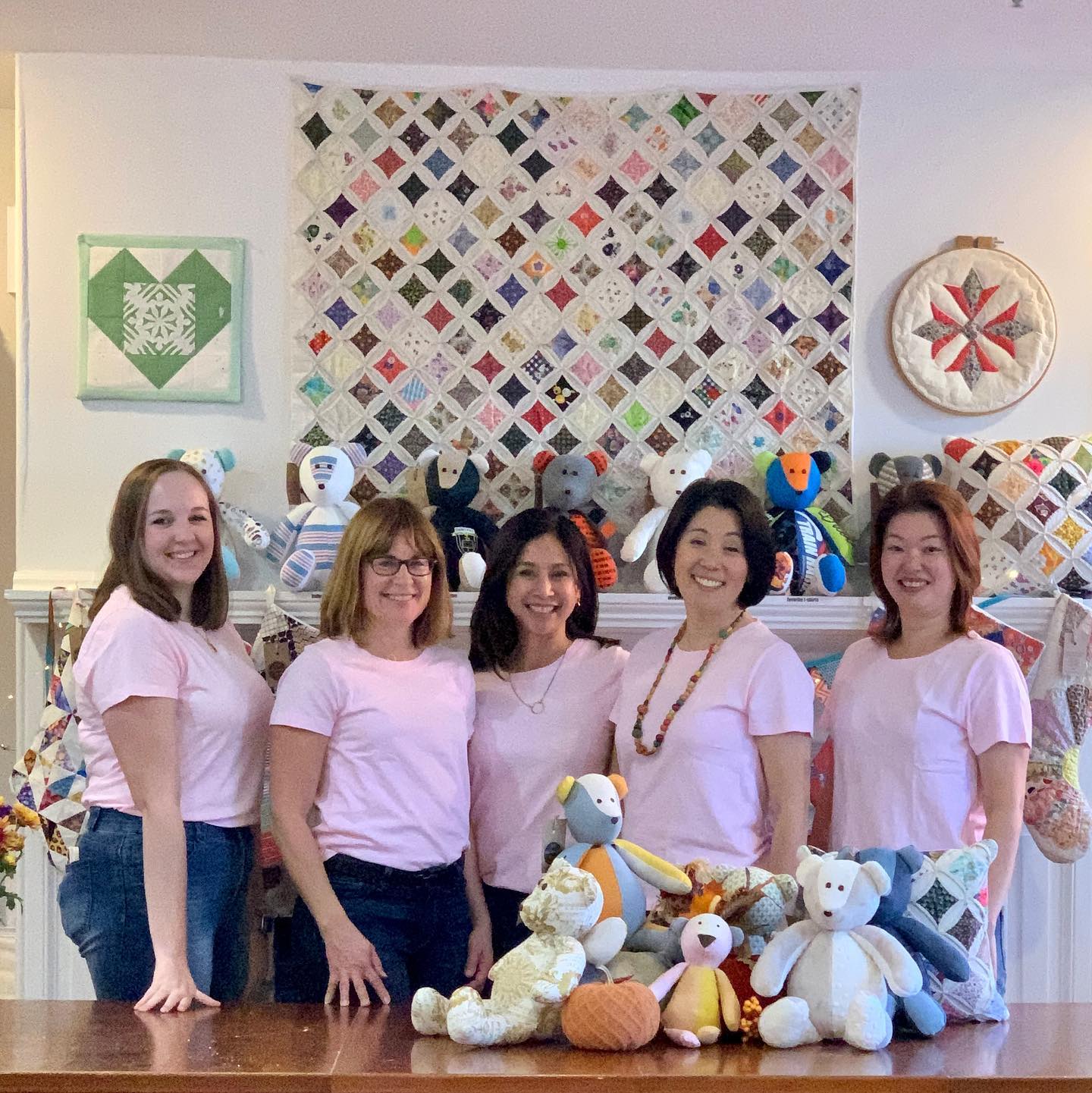 why us?
Why choose The Patchwork Bear to make your custom keepsake?
The Patchwork Bear has been trusted to turn your favorite clothes into keepsakes since 2005 and understand your clothing is irreplaceable- full of stains and memories. We take the utmost care of your clothes in every step of the process from receiving the clothes, to design, to creation and delivery. 
We know it is difficult to send your clothes away to be cut up, but you can trust that our talented design team will transform them into a keepsake you will love. We get to know you through the clothes you send and our goal is to create custom products from clothing that will bring back happy memories. 
award winning
One of Oprahs's Favorite Things
If OPRAH trusts us, you can too! In 2017, we were thrilled to have our Memory Bear chosen as one of Oprah's Favorite Things. 
Our products have received numerous awards and recognition, notably the Creative Child Product of the Year and Oprah's Favorite Things List.