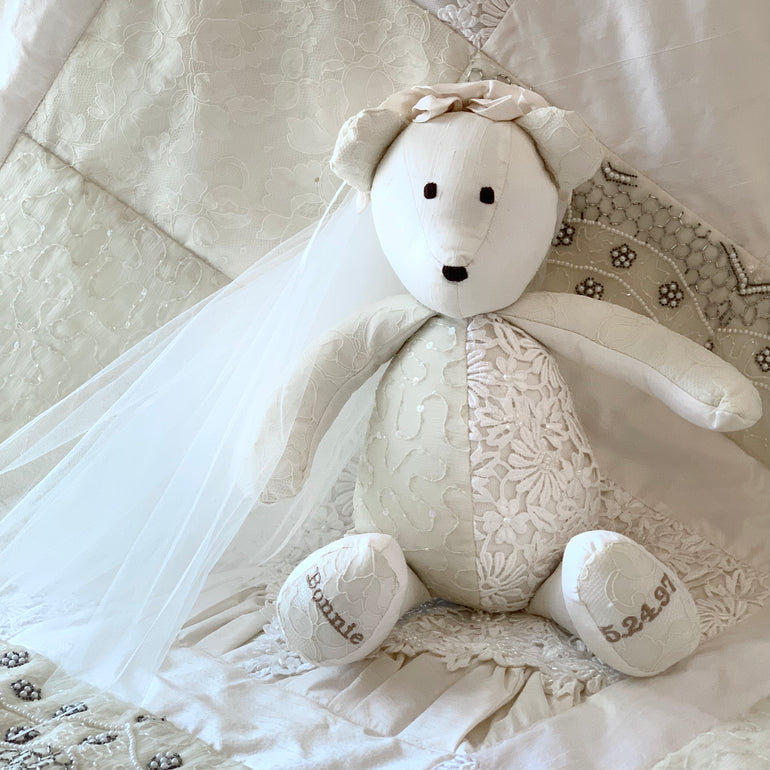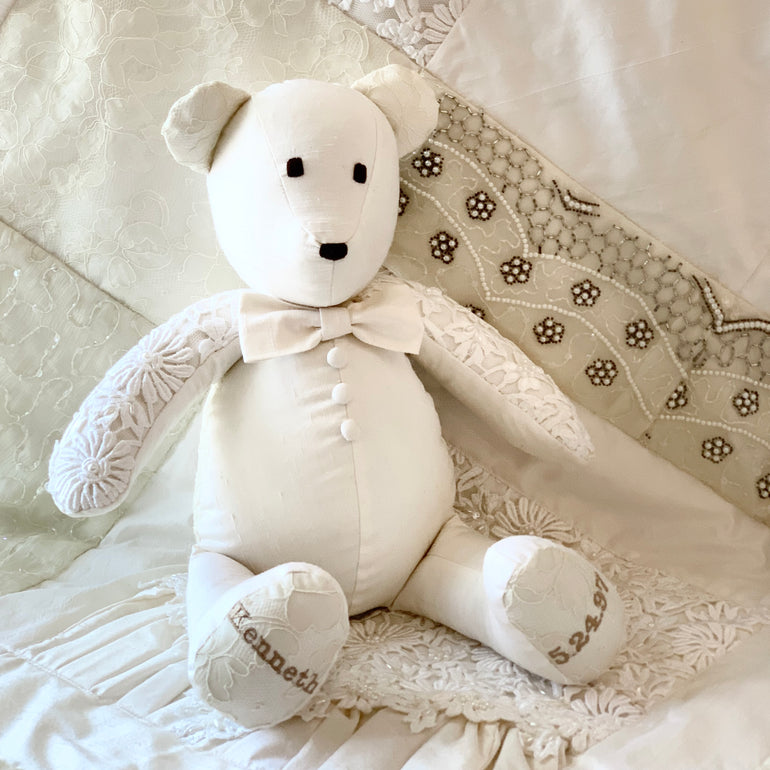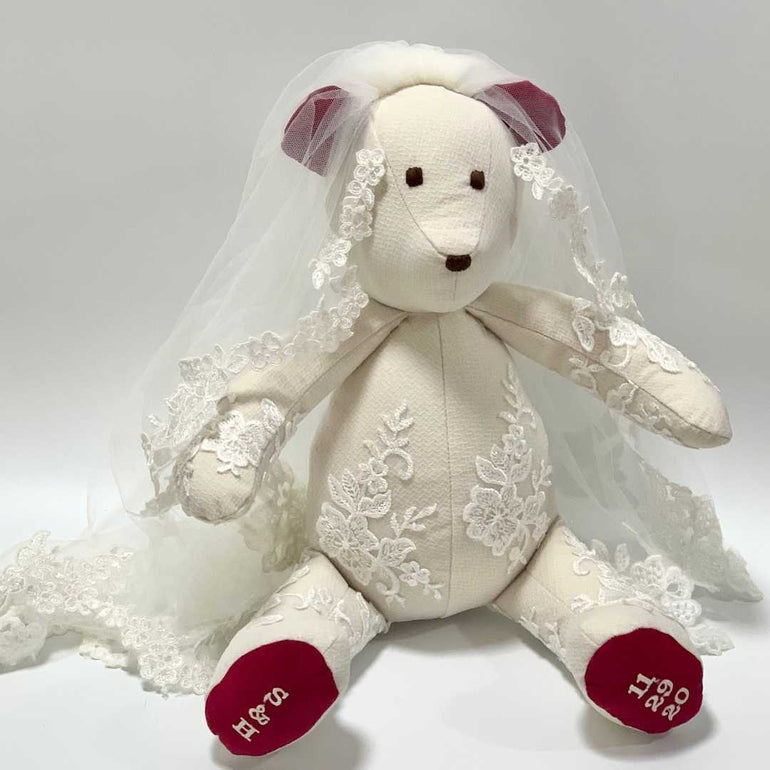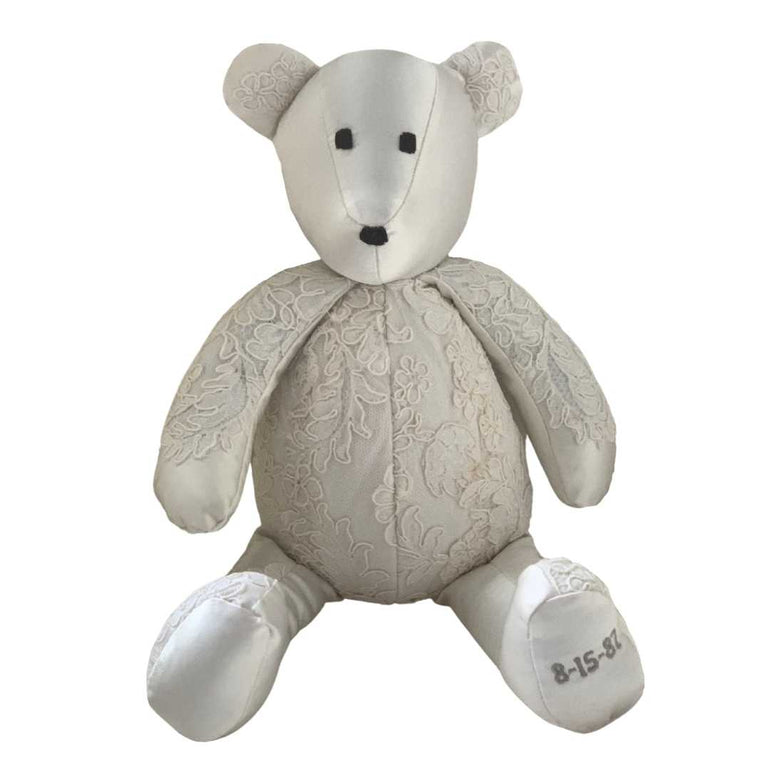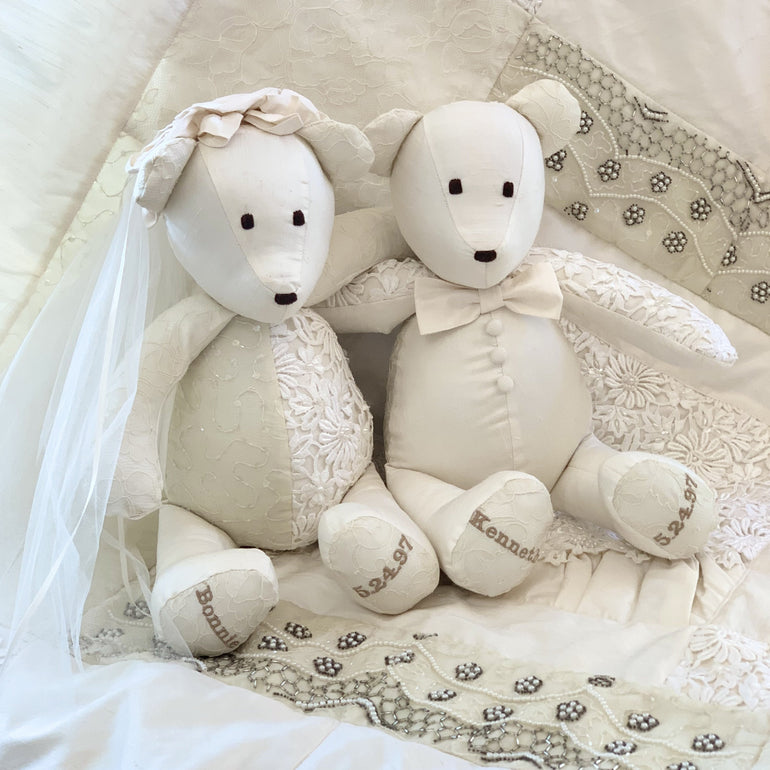 Wedding Dress Patchwork Bear
SOLD OUT for holiday delivery. .You are welcome to place your order for a memory bear but it will likely not be complete in time for the holidays (will delivery in January 2024)
Keep the memory of your wedding day out on display as a Keepsake Wedding Dress Bear! Your wedding dress will be transformed into a beautiful patchwork bear. Your favorite dress details will be incorporated into the bear and accented with hand-stitched eyes and nose in a complementary color. Finished bear measures approximately 17 inches tall and is made entirely from your dress; stuffed with premium fiber-fil.
*This is for ONE wedding dress bear. If you would like a bride and groom bear please order TWO bears.  Photo shown with optional veil & personalization added. Go to ADD ONS if you would like to add to your bear.
Some ideas:
Add your bridesmaid dress for a pop of color to your bear
Make two bears: a bride and groom bear!
Highlight a unique design detail on your dress like the front or back bodice
Order a coordinating wedding quilt to match your bear
**Please note: Some dress fabrics are not suitable as a bear. CONTACT US if you have any questions. Your special bear is handmade to order and will take approximately 6-8 weeks to complete (+shipping time)
Step 1: Order your keepsake product
Step 2: We email shipping instructions and an order form
After your order is processed, we EMAIL shipping instructions & a printable order form.
(Gift Kits will ship in 2-3 days and include an order form, shipping instructions & mailing bag)
Step 3: Send your clothes to the patchwork bear
All packages sent to us are signed for upon receipt and kept in a safe, indoor location. We know your clothes are irreplaceable and we take great care throughout the process
Step 4: receive your keepsake in just a few weeks. Instant heirloom!
Please allow 4-6 weeks for memory bears & animals; 8-12 weeks for quilts & bags. May take longer during holidays (Oct-Dec). 
CONTACT US if you have a specific deadline or any questions. We can't wait to help you save your memories!
---
Beautiful Keepsake
I ordered bride and groom wedding dress bears for my granddaughter and they are absolutely gorgeous! They were beyond my expectations and even more beautiful than I imagined. Everyone at this company was wonderful to work with from start to finish. They incorporated every intricate detail of my wedding dress onto both bears. The bride's back and veil matched my wedding dress perfectly. Someone was in contact with me every step of the way. They even sent a picture when I mentioned that I couldn't wait to see the bears. I love them and my daughter and granddaughter were so excited when they saw them. They are going to be a wonderful remembrance for my granddaughter. Thank you so much for making these beautiful bears!
Wedding Memory Bear
Before my mother died, she insisted I take her mother's wedding dress. It was in the same box it was placed in after her wedding in the 1930's. I even tried it on years ago at my mother's insistence to see if it would fit for my own wedding. My grandmother stood at a proud 5'2". I am 5'8". Back in the box it went. I decided to have it made into a Memory Bear so at least it was on display somehow and in an adorable way. I made the right choice! The Patchwork Bear did a fabulous job!
I don't know what I really expected, but when I got my bears, I started to cry! I am so thrilled with the love and care that obviously went into crafting these. My dress had languished in a box for 25 years, and you have given me my wedding day, all over again Thank you so much!
I had a bear, lap quilt, and pillows made from my daughter's wedding dress and the items I ordered were AMAZING! They turned out even better than I had expected. The Patchwork Bear did a phenomenal job and I couldn't be more pleased. I gave ideas of what I envisioned and they carried them through perfectly. These are keepsakes we will cherish forever. Instead of putting her wedding dress in a closet and never seeing it, my daughter can place these items on display and smile as she remembers her wedding day over and over and over. Highly recommend!!! 10/10
5 Star, personal experience start to finish! Love the bear, and such a great keepsake from our wedding!
What a beautiful keepsake. We surprised my mom with a bear made from her wedding dress. My Dad passed away in January and this would been their 50th wedding anniversary. The bear brought mom to tears. It was beautifully done and we will treasure it.
I loved my bear. It is the perfect keepsake of my mom. I ordered another one in honor of my dad.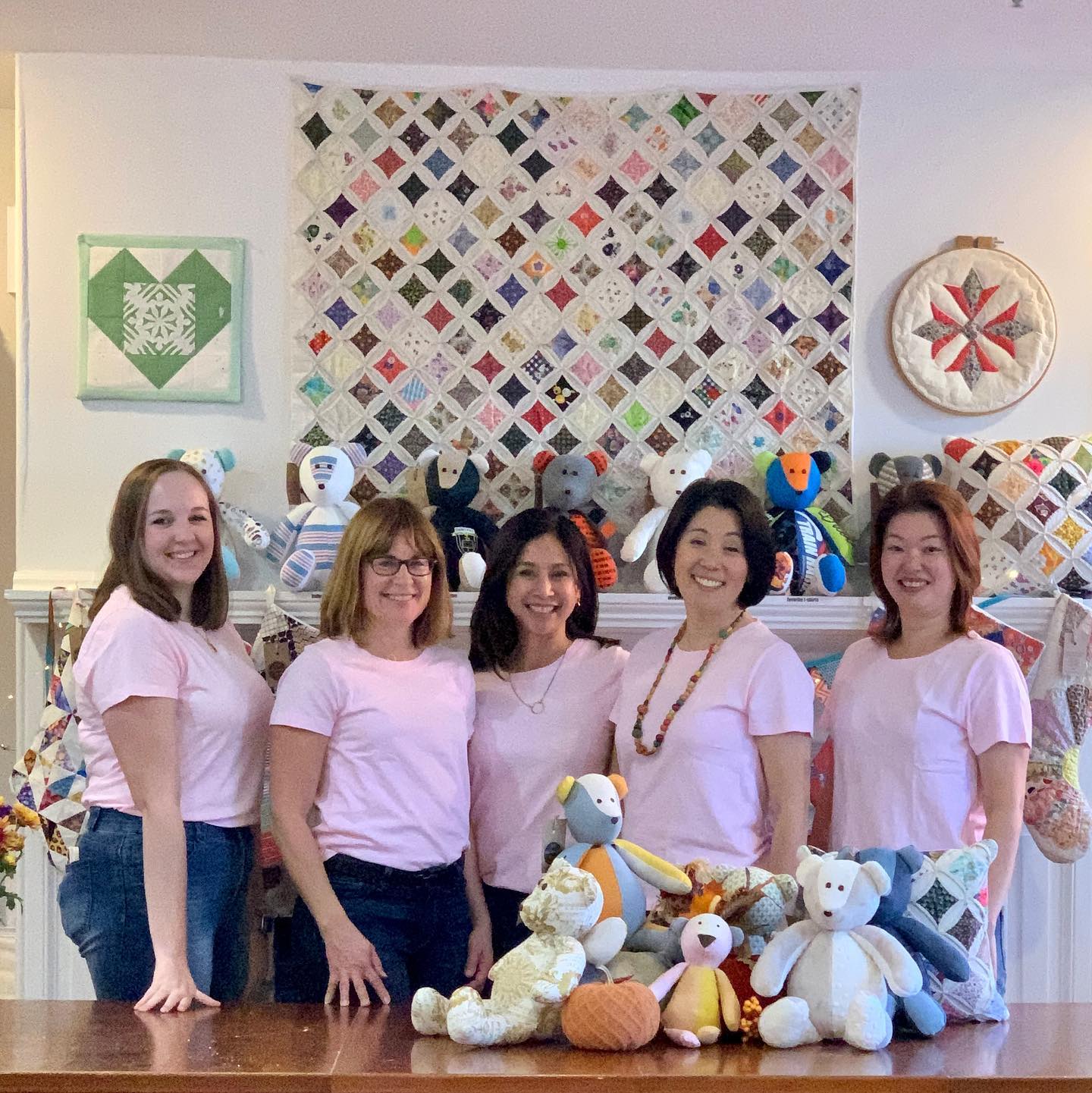 why us?
Why choose The Patchwork Bear to make your custom keepsake?
The Patchwork Bear has been trusted to turn your favorite clothes into keepsakes since 2005 and understand your clothing is irreplaceable- full of stains and memories. We take the utmost care of your clothes in every step of the process from receiving the clothes, to design, to creation and delivery. 
We know it is difficult to send your clothes away to be cut up, but you can trust that our talented design team will transform them into a keepsake you will love. We get to know you through the clothes you send and our goal is to create custom products from clothing that will bring back happy memories. 
award winning
One of Oprahs's Favorite Things
If OPRAH trusts us, you can too! In 2017, we were thrilled to have our Memory Bear chosen as one of Oprah's Favorite Things. 
Our products have received numerous awards and recognition, notably the Creative Child Product of the Year and Oprah's Favorite Things List.