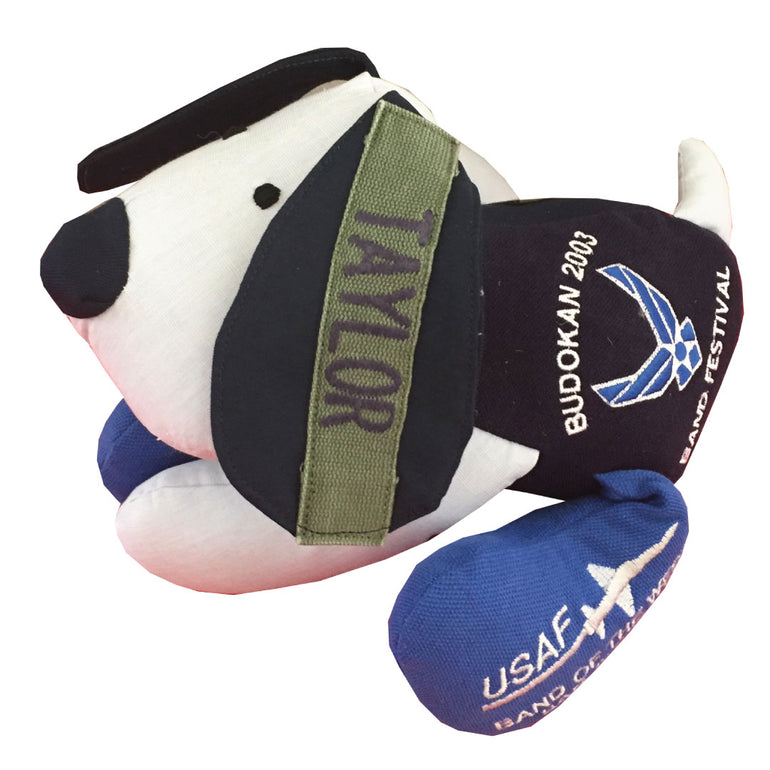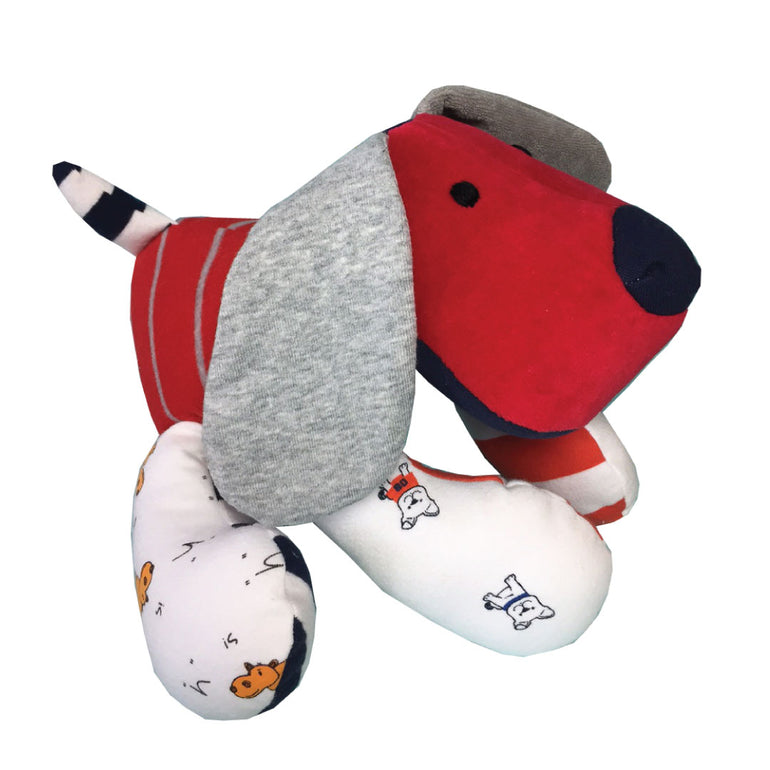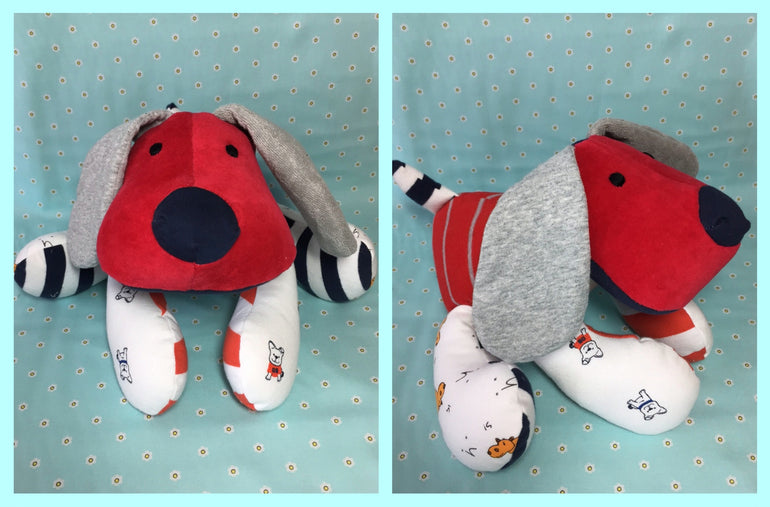 Another patchwork pet to love: PATCHWORK PUPPY!
This adorable puppy is made entirely from your clothes, from his little tail to his big snout. Each article of clothing is stabilized, cut and sewn to create a one-of-a-kind keepsake for you to remember the special moments made when the clothes were worn.
Puppy design credit to the talented crew at Funky Friends Factory.
Please allow 8-10 weeks to create your custom memory puppy. 
Step 1: Order your keepsake product
Step 2: We email shipping instructions and an order form
After your order is processed, we EMAIL shipping instructions & a printable order form.
(Gift Kits will ship in 2-3 days and include an order form, shipping instructions & mailing bag)
Step 3: Send your clothes to the patchwork bear
All packages sent to us are signed for upon receipt and kept in a safe, indoor location. We know your clothes are irreplaceable and we take great care throughout the process
Step 4: receive your keepsake in just a few weeks. Instant heirloom!
Please allow 4-6 weeks for memory bears & animals; 8-12 weeks for quilts & bags. May take longer during holidays (Oct-Dec). 
CONTACT US if you have a specific deadline or any questions. We can't wait to help you save your memories!
---
Loving dogs
I sent in fabric for 5 dogs that was organized in bags for my 5 children plus some extra to add to each dog. Every one of them was PERFECT. Thanks you from the bottom of my heart. This will be a remarkable reminder, for them, in memory of their dad.
My dad wore sweater vests daily. When he left for Heaven I found 18 sweater vests neatly hanging in his closet. He also loved dogs. The Patchwork Bear turned these sweater vests into the most adorable puppies, one for each grandchild. They even used the fluffy inside on one vest as the nose on each puppy. All nine adult grandchildren were blown away. I saw several tears and enormous smiles! Thank you Patchwork Bear Team!!!
They're doing God's work!
My 14 year old furball crossed the rainbow bridge almost 2 years ago. My soul still aches for him. My heart will never be the same. I couldn't bear to get rid of his dog bed, it sat right in its spot where he used to nap. My husband bought this for me & I bawled my eyes out - it was so thoughtful. I was a little nervous to put his bed in the mail but was really thankful for the email that I received stating that his bed made it there safely. And to my surprise, my patchwork puppy showed up only 3 weeks later! I opted to let the patchwork bear design my puppy & I'm so glad I did. I couldn't have made him more perfect!! Thank you for what you do in helping keep the memories of our loved ones with us. ♥️
My animal made of my husbands shirts is so wonderful. Thank you
Beautiful memorial for my beloved pup
I am extremely happy with the patchwork pup made as a memorial for my beloved dog Arnie. It is made from 2 of his blankets, his pillow he used to sleep against, and one of his sweaters. Very nicely done! Thank you!
Amazing
The puppies I ordered were amazing! My family is going to love and cherish them forever. Thank you
Love these patchwork puppies so so so much!
You guys did an extraordinary job with our two puppies!!! Our daughter is having twin boys. We used fabric from my wedding dress, my mom's wedding dress, my dad's tie and my husband's shirt. They were a very special hit!!
The best!
The puppies are absolutely perfect! They exceeded my expectations and I couldn't be happier! I ordered three for my grandchildren so they could remember their grandpa. Thank you so much!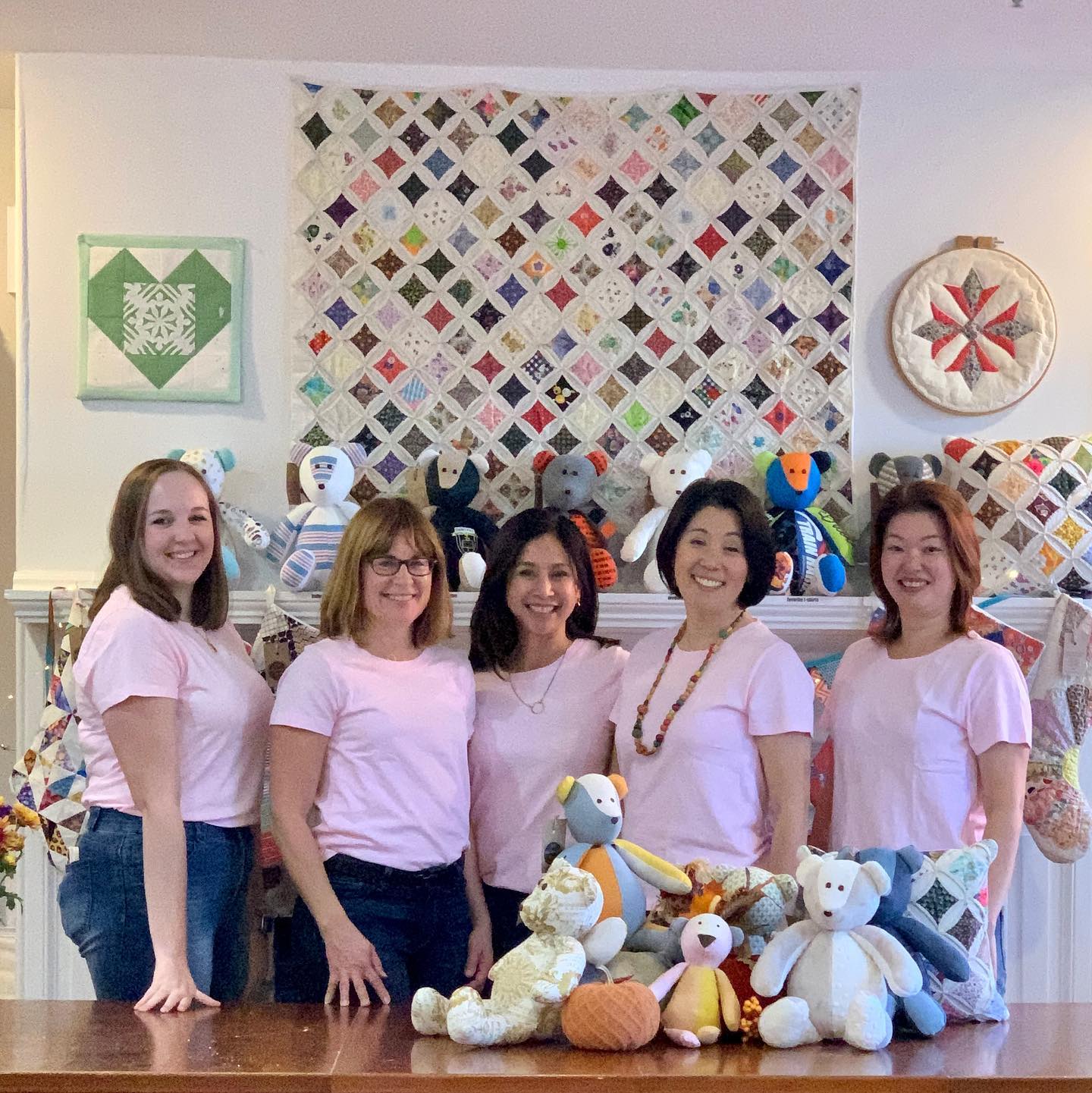 why us?
Why choose The Patchwork Bear to make your custom keepsake?
The Patchwork Bear has been trusted to turn your favorite clothes into keepsakes since 2005 and understand your clothing is irreplaceable- full of stains and memories. We take the utmost care of your clothes in every step of the process from receiving the clothes, to design, to creation and delivery. 
We know it is difficult to send your clothes away to be cut up, but you can trust that our talented design team will transform them into a keepsake you will love. We get to know you through the clothes you send and our goal is to create custom products from clothing that will bring back happy memories. 
award winning
One of Oprahs's Favorite Things
If OPRAH trusts us, you can too! In 2017, we were thrilled to have our Memory Bear chosen as one of Oprah's Favorite Things. 
Our products have received numerous awards and recognition, notably the Creative Child Product of the Year and Oprah's Favorite Things List.