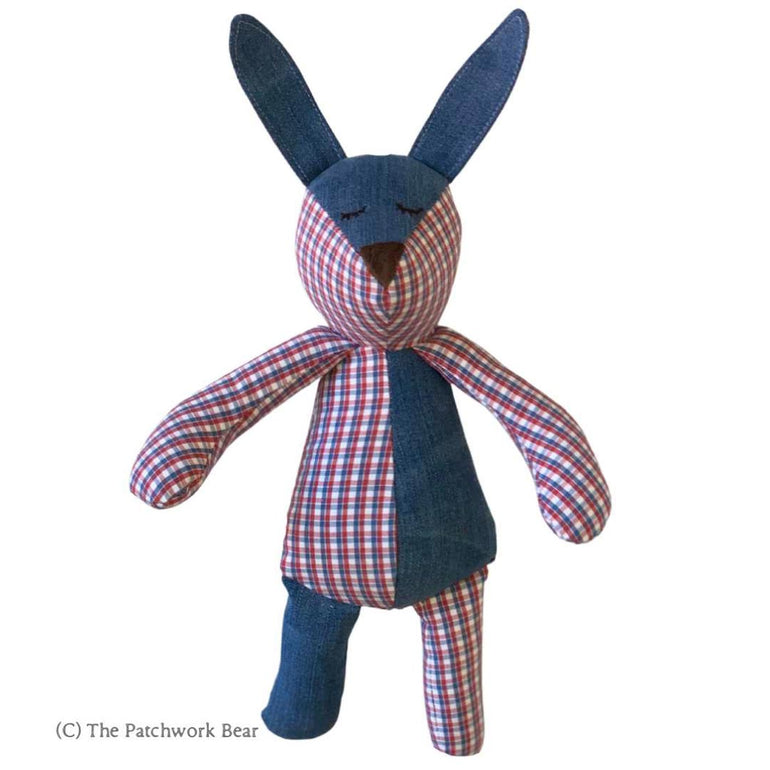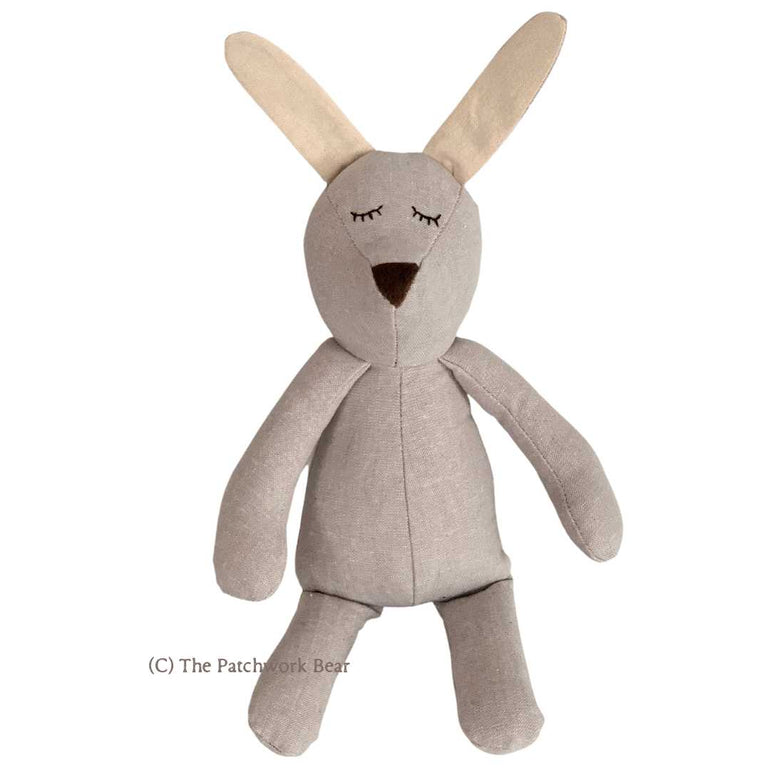 NEW! We created this Memory Bitty Bunny after your requests for a smaller version of our best-selling Memory Bunny.
Made entirely from your clothes, this cutie has a soft minky nose, hand-embroidered sleepy eyes and perfectly sized to tote around. 
Due to the smaller size of this bunny, we do not recommend using clothes with graphics since they will be cut too small and be unreadable. Personalization or add-ons not available on this item.
Made from just one article of clothing  but can incorporate up to 2 upon request.
If you have clothes with graphics like t-shirts, please order the MEMORY BUNNY
Measures 13 inches tall (vs 18 inches for the Memory Bunny)
Step 1: Order your keepsake product
Step 2: We email shipping instructions and an order form
After your order is processed, we EMAIL shipping instructions & a printable order form.
(Gift Kits will ship in 2-3 days and include an order form, shipping instructions & mailing bag)
Step 3: Send your clothes to the patchwork bear
All packages sent to us are signed for upon receipt and kept in a safe, indoor location. We know your clothes are irreplaceable and we take great care throughout the process
Step 4: receive your keepsake in just a few weeks. Instant heirloom!
Please allow 4-6 weeks for memory bears & animals; 8-12 weeks for quilts & bags. May take longer during holidays (Oct-Dec). 
CONTACT US if you have a specific deadline or any questions. We can't wait to help you save your memories!
---
Bitty Bunnies
I received my Bitty Bunnies today. 3/4 of these were made from vests, the two vests were exactly the same, but worn by my daughter and son for a dance costume and a family wedding. They kept the tags into the pattern as requested so I could remember who wore which vest. The other bunny was made from another dance competition shirt from my daughter's successful dance competition season. They are quite cute! Thanks again for saving my memories!
Memory Bitty Bunny
My grandsons loved their bunnies!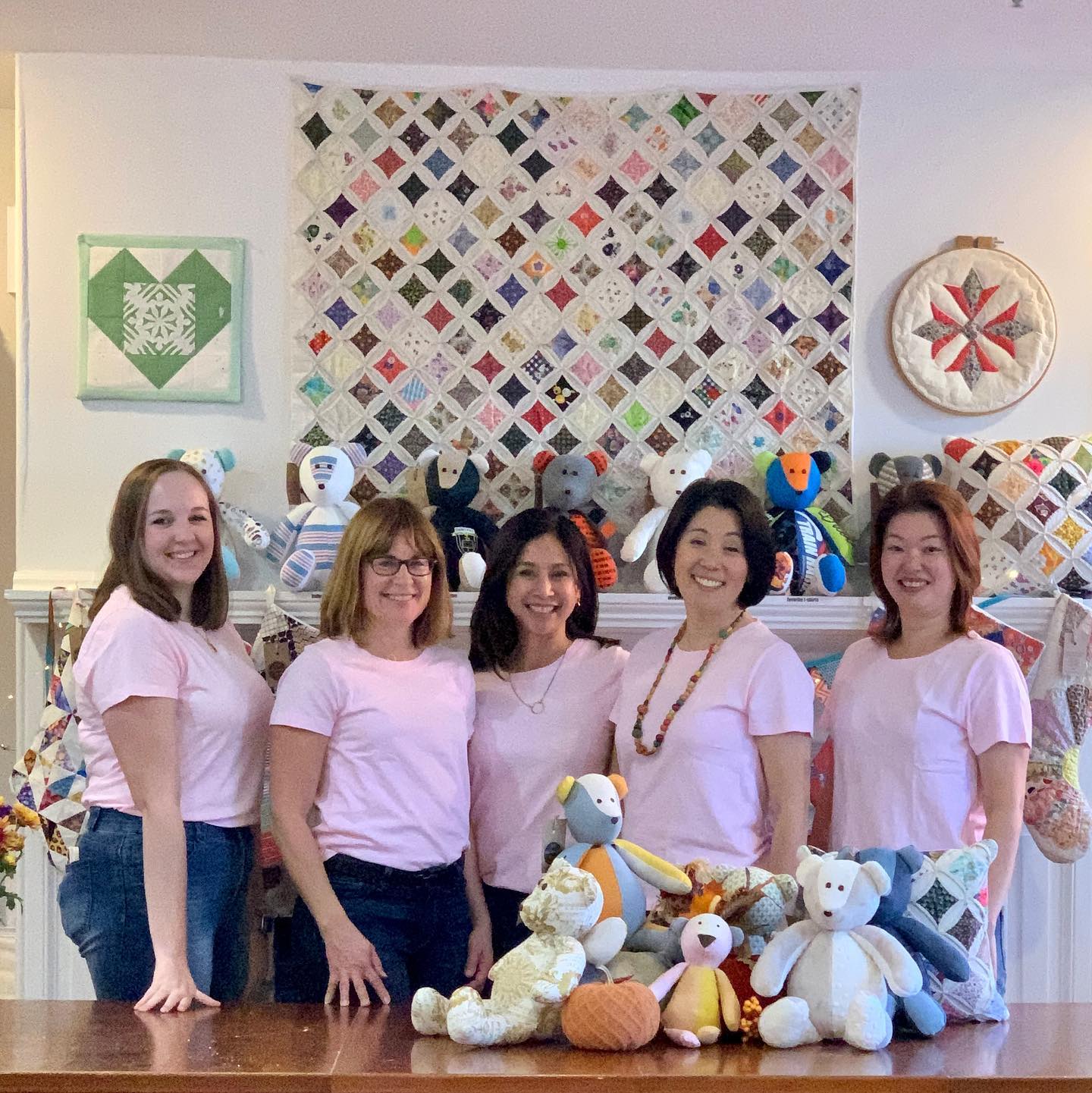 why us?
Why choose The Patchwork Bear to make your custom keepsake?
The Patchwork Bear has been trusted to turn your favorite clothes into keepsakes since 2005 and understand your clothing is irreplaceable- full of stains and memories. We take the utmost care of your clothes in every step of the process from receiving the clothes, to design, to creation and delivery. 
We know it is difficult to send your clothes away to be cut up, but you can trust that our talented design team will transform them into a keepsake you will love. We get to know you through the clothes you send and our goal is to create custom products from clothing that will bring back happy memories. 
award winning
One of Oprahs's Favorite Things
If OPRAH trusts us, you can too! In 2017, we were thrilled to have our Memory Bear chosen as one of Oprah's Favorite Things. 
Our products have received numerous awards and recognition, notably the Creative Child Product of the Year and Oprah's Favorite Things List.